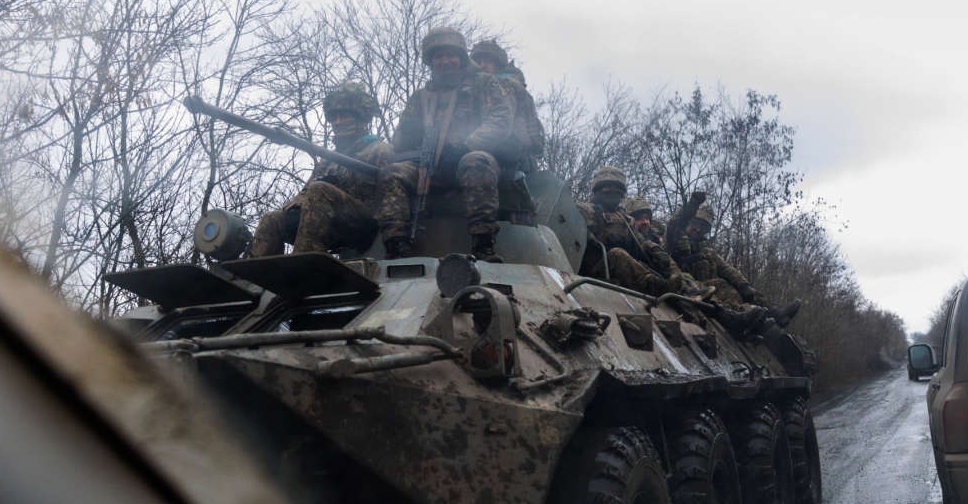 Russian forces carried out relentless attacks on the eastern Ukrainian city of Bakhmut on Wednesday in their quest for a breakthrough in the year-long war, although one US official predicted few short-term territorial gains for Russia.
Bakhmut had a population of about 70,000 before the war but has been ruined during months of fighting as a focal point of Russian assaults and determined Ukrainian defence.
"The enemy continues to advance in the direction of Bakhmut. He does not stop storming the city of Bakhmut," the Ukrainian military said in a morning briefing.
A Russian takeover of the small mining city would open the way to seizing the last remaining urban centres in the industrial Donetsk province.
President Volodymyr Zelenskiy, in a video address late on Tuesday, said the battle for Bakhmut was "most difficult" but its defence was essential.
"Russia in general takes no account of people and sends them in constant waves against our positions, the intensity of the fighting is only increasing," Zelenskiy said.
Ukrainian military analyst Oleh Zhdanov said Russian forces had driven a wedge between two villages north of Bakhmut, Berkhivka and Yahidne, in their bid to surround the city.
"This breakthrough on Bakhmut's northern flank poses a clear threat to us," he said in comments posted on social media.
Although most of the Russian attacks were focused on Bakhmut and other towns and villages in Donetsk, the Ukrainian military said its forces had repelled 85 Russian attacks on different sections of the front line over the past day.
Reuters was not able to verify battlefield reports.
Russia's state-run RIA news agency released a video clip it said showed Russian Su-25 fighter jets roaring over Bakhmut.
"We are glad they are ours," says a man in the clip identified as a fighter of the mercenary Wagner Group, adding the jets helped them "psychologically".
Ukrainian aircraft launched three strikes on areas of concentration of Russian forces, the Ukrainian military said in a statement on Tuesday night.
'GRINDING SLOG'
In Washington, senior U.S. defence official Colin Kahl told a congressional hearing that the front lines of the war were a "grinding slog" and there was nothing to suggest "the Russians can sweep across Ukraine and make significant territorial gains anytime in the next year or so".
Kahl spoke during a hearing focused on oversight of the nearly $32 billion in military aid President Joe Biden's administration has provided to Ukraine since Russia's invasion on February 24 last year, including drones, long-range artillery systems, and air defence capabilities.
Ukraine has sought weaponry to protect itself from waves of Russian missile and drone attacks that in the depths of winter damaged the power grid and other infrastructure, killed hundreds of civilians and left millions with no electricity or water.
As part of an investigation into whether the attacks contravened the Geneva conventions on military conflict, the International Criminal Court's top prosecutor, Karim Khan, was in Ukraine on Tuesday.
"Generally we see clearly a pattern, I think, in terms of the number, scale and breadth of attacks against the power grids of Ukraine and we need to look at why that's taking place; are they legitimate targets or not?" Khan told reporters in the town of Vyshhorod just north of the capital Kyiv.
Russia says its attacks are legitimate strikes aimed at weakening the enemy's military but Ukraine casts them as a means of intimidating the public.
Zelenskiy, speaking after meeting Khan, said the court had a "historic" role to play in bringing justice for crimes committed in the war and ensuring long-term security.