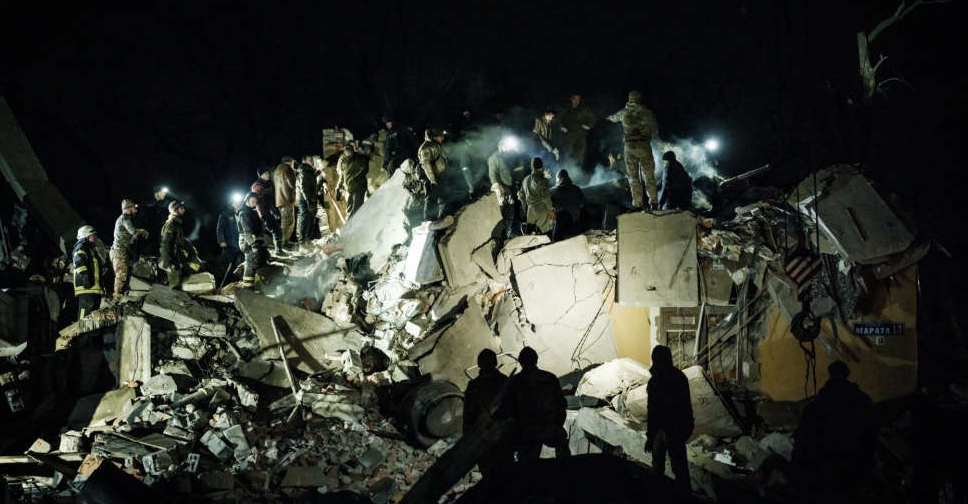 AFP
The situation on the front lines in eastern Ukraine "has become tougher" as Russian forces push for gains that they could show on the first anniversary of their invasion, on February 24, President Volodymyr Zelenskiy said in a sombre assessment.
Russia has picked up momentum on the battlefield and announced advances north and south of the Ukrainian city of Bakhmut in Dontesk.
Bakhmut and 10 towns and villages around it came under Russian fire, the Ukrainian military said late on Wednesday. Bakhmut has suffered persistent Russian bombardment for months.
Avdiivka, another major Russian target, the nearby town of Maryinka and some neighbouring settlements were also hit, the military added.
In Kramatorsk, about 55 km northwest of Bakhmut, a Russian missile destroyed an apartment building and damaged seven on Wednesday, killing at least three people and injuring 20, police said.
"At least eight apartment buildings were damaged. One of them was completely destroyed," police said in a Facebook post.
"People may remain under the rubble."
"Definite increase has been noted in the offensive operations of the occupiers on the front in the east of our country. The situation has become tougher," Zelenskiy added in an evening video address.
In the past 24 hours, Ukrainian forces repelled attacks on several centres in Donetsk, including Bakhmut, Krasna Hora, and Blahodatne, Ukrainian military analyst Oleh Zhdanov said.
Russian forces said they took Blahodatne, just to the north of Bakhmut, on Tuesday.
Russian forces also tried to launch attacks on the logistics hub of Lyman, retaken by Ukrainian forces in October, but they made no headway, he added.
Reuters could not confirm battlefield reports.
Russia and Ukraine are both believed to be preparing new offensives and Ukrainian Defence Minister Oleksii Reznikov warned that a Russian push could begin as soon as Feb. 24.
Ukraine has secured pledges of weapons from the West offering new capabilities - the latest expected this week to include rockets from the United States that would nearly double the range of Ukrainian forces.
The Kremlin said that longer-range rockets from the United States would escalate the conflict but not change its course.
Ukraine and its Western allies have accused Russian forces of war crimes. Russia rejects that.
The Ukrainian leader also vowed more anti-corruption measures as authorities continued raids ahead of a meeting with European Union officials on Friday, reflecting a determination to demonstrate that Ukraine can be a reliable steward of billions of dollars in aid.
Ukraine sees the meeting as important to its hopes of joining the bloc, which can take years.
Earlier, security officials searched the home of businessman Ihor Kolomoiskiy, a one-time Zelenskiy ally, in what media said was an investigation of suspected financial crime.
Kolomoiskiy could not immediately be reached for comment. He has denied any wrongdoing.