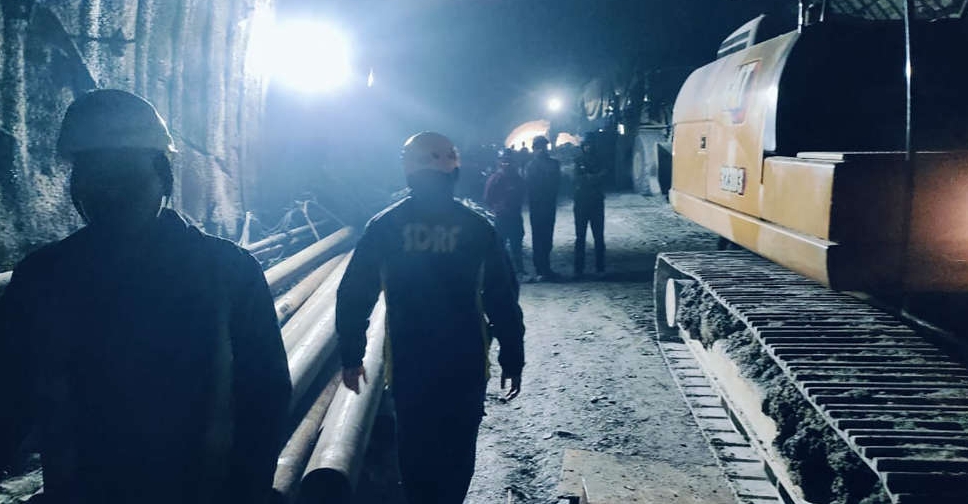 Two of 40 men trapped inside a collapsed highway tunnel in the Indian Himalayas were treated for nausea and headache, officials said on Thursday, as they endured a fifth day confined to a small space in the rubble.
Rescue efforts have been focused on drilling through the fallen rock to create space for a pipe that can be used to pull the men to safety. But progress has been hampered by falling debris.
Authorities said they were confident an advanced drilling machine brought in from New Delhi would speed up the rescue at the site in the northern state of Uttarakhand.
The machine can drill through about 2-2.5 metres of rock per hour, Ranjit Sinha, the state's top disaster management officer, said. Work would begin shortly to cover the 60 metres distance to reach the men, said Devendra Singh Patwal, a state disaster management official.
AMBITIOUS PROJECT
The 4.5 km tunnel is part of the Char Dham highway, one of the most ambitious projects of Prime Minister Narendra Modi's government. The $1.5 billion project aims to connect four Hindu pilgrimage sites through 890 km of roads.
Since the tunnel collapsed, the trapped men have been supplied with food, water and oxygen via a pipe and they are in contact with rescuers via walkie-talkies.
"Two of them, who complained of nausea and minor headache, were given medicines through the pipe and are fine now," Arpan Yaduvanshi, a local police official said.
Local media reported that a six-bed makeshift hospital had been put in place near the tunnel to cater to any medical attention the men might need once they are rescued.
Authorities have not said what caused the tunnel to cave in but the region is prone to landslides, earthquakes and floods. The highway project has faced some criticism from environmental experts and some work was halted in January after hundreds of houses along the routes were damaged by subsidence.
The federal government has said it employed environmentally friendly techniques in the design to make geologically unstable stretches safer.