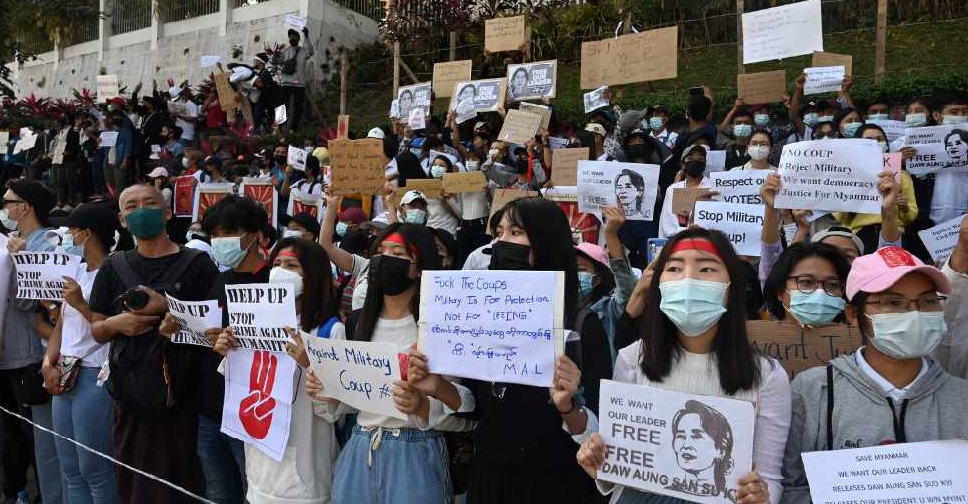 Sai Aung Main / AFP
Protests spread across Myanmar on Wednesday after the most violent day in demonstrations against a coup that brought to a halt a tentative transition to democracy under elected leader Aung San Suu Kyi.
The United States and United Nations condemned the use of force against protesters who are demanding the reversal of the February 1 coup and the release of Suu Kyi and other detained leaders of her National League for Democracy (NLD) and activists.
The US State Department said it was reviewing assistance to Myanmar to ensure those responsible for the coup faced "significant consequences".
"We repeat our calls for the military to relinquish power, restore democratically elected government, release those detained and lift all telecommunication restrictions and to refrain from violence," spokesman Ned Price said in Washington.
The United Nations called on Myanmar's security forces to respect people's right to protest peacefully.
"The use of disproportionate force against demonstrators is unacceptable," Ola Almgren, the UN representative in Myanmar, said.
Thousands of people joined demonstrations in the main city of Yangon. In the capital, Naypyitaw, hundreds of government workers marched in support of a growing civil disobedience campaign.
A group of police in Kayah state in the east joined the protesters and marched in uniform with a sign that said "We don't want dictatorship", according to pictures published in media.
Several protesters were injured, where security forces used water cannon and arrested dozens. State media reported injuries to police during their attempts to disperse protesters, who were accused of throwing stones and bricks.
The military has imposed restrictions on gatherings and a night curfew in the biggest cities.