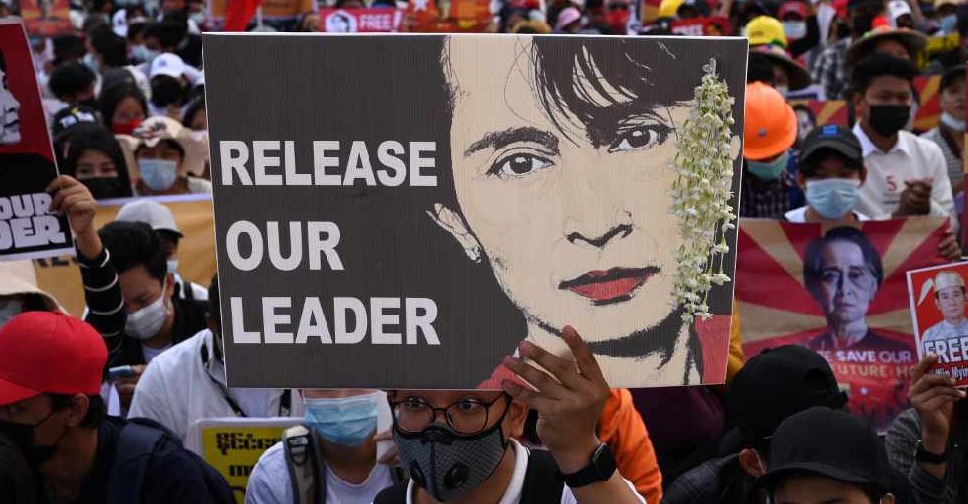 Sai Aung Main / AFP
Opponents of Myanmar's military coup gathered on Wednesday for what they hope will be a major show of opposition to the army's assertion of public support for overthrowing elected leader Aung San Suu Kyi.
Protesters are deeply sceptical of the junta's assurances, given at a news conference on Tuesday, that there would be a fair election and it would hand over power, even as police filed an additional charge against Suu Kyi.
The Nobel Peace laureate, detained since the February 1 coup, now faces a charge of violating a Natural Disaster Management Law as well as charges of illegally importing six walkie talkie radios. At a hearing by video conference on Tuesday, her next hearing was set for March 1.
The coup that cut short the Southeast Asian country's unsteady transition towards democracy has prompted daily demonstrations since February 6, some drawing hundreds of thousands of people.
The takeover has also drawn strong Western criticism, with renewed anger from Washington and London over the additional charge for Suu Kyi. Although China has taken a softer line, its ambassador in Myanmar on Tuesday dismissed accusations it supported the coup.
UN Special Rapporteur Tom Andrews said he feared the possibility of violence against the protesters and made an urgent call on any country with influence over the generals, and businesses, to press them to avoid it.
"Continued repression of the people of Myanmar's basic liberties and human rights must end immediately," Andrews said in a statement.
In Yangon and elsewhere, motorists responded to a "broken-down car campaign" spreading on social media, stopping their supposedly stalled cars, with bonnets raised, on streets and bridges to block them to police and military trucks.
The president was also detained on the day of the coup.
Hundreds of people have been rounded up by the army since then, many of them in night-time raids. Those arrested include much of the NLD's senior leadership.
The suspension of the internet at night has added to a sense of fear.
Myanmar's Assistance Association for Political Prisoners group said more than 450 arrests had been made since the coup.