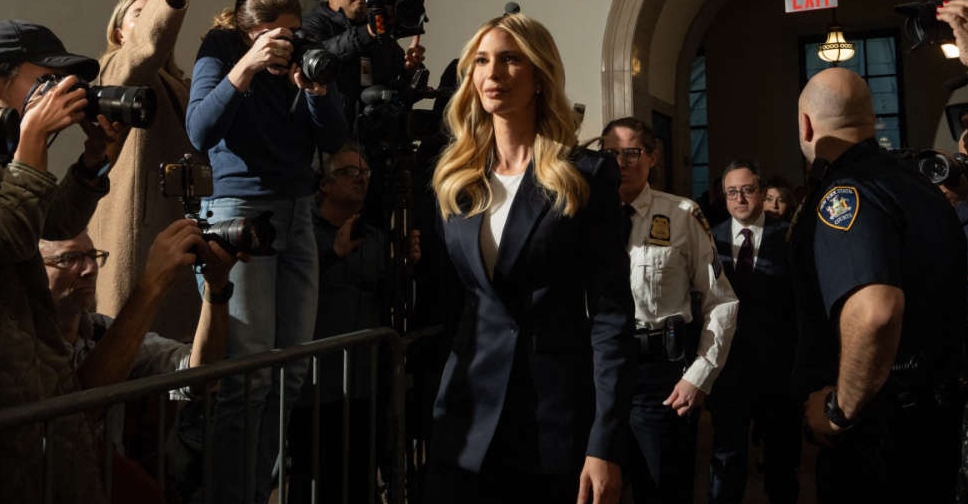 Donald Trump's daughter Ivanka testified on Wednesday that she did not recall details of real-estate deals she worked on at her father's company, in a New York civil fraud trial that threatens the former US president's business empire.
Like her brothers Donald Trump Jr. and Eric Trump, who testified last week, Ivanka sought to distance herself from the questionable valuation methods that have already been ruled fraudulent by the judge overseeing the trial.
Trump, by contrast, has acknowledged on the witness stand that some of the estimates of golf courses, office towers and other company assets were inaccurate.
The lawsuit by New York Attorney General Letitia James, a Democrat, accuses Trump and his family businesses of manipulating real estate asset values to dupe lenders and insurers and embellish Trump's reputation as a successful businessman.
Unlike her siblings and father, Ivanka Trump is not a defendant in the case.
As a top executive at the Trump Organization between 2011 and 2017, Ivanka said she focused on redeveloping the Doral golf course in Florida and the Old Post Office property in Washington.
At the trial, she was shown a 2011 email in which she acknowledged that a requirement by lender Deutsche Bank that her father maintain a net worth of at least $3 billion was a problem but encouraged company officials to approve it anyway.
"We wanted to get a great rate and the only way to get proceeds/term and principal where we want them is to guarantee the deal," she wrote to a Trump Organization lawyer.
On the witness stand, she said she favoured the deal but did not recall specific terms. "I felt generally that the deal terms with Deutsche Bank for Doral were positive," she said.
Trump, who leads his rivals for the 2024 Republican presidential nomination despite a maelstrom of legal troubles, has denied wrongdoing and accused James and Justice Arthur Engoron of political bias and "election interference." He repeated those claims on social media late on Tuesday, saying it was "Sad!" that Ivanka was being forced to testify.
During defiant and rambling testimony on Monday, Trump acknowledged that valuations for his properties were not always accurate but said the errors were not relevant to the financial institutions that used them to price deals.
Donald Jr. and Eric Trump testified last week that the financial documents at the heart of the case were not their responsibility, though emails and other documents showed they may have been more involved than their testimony indicated.
Ivanka joined her father during his 2017-2021 term in the White House, leaving her brothers in charge of the company during that time.
James said Ivanka nevertheless was involved in manipulating property values.
"She will attempt today to distance herself from the company, but unfortunately the facts will reveal that in fact she was very much involved," James said on the courthouse steps.
In a ruling that found Trump, his adult sons and 10 of his companies liable for fraud, Engoron described in scathing terms how the defendants made up valuations. His ruling could strip Trump's control of some of his best known properties, though that order is on hold during appeal.
James is seeking $250 million in fines, as well as restrictions that would prevent Trump and his adult sons from doing business in New York.
In addition to this case, Trump is a defendant in four separate criminal cases, including two stemming from his attempts to overturn Democrat Joe Biden's 2020 presidential election victory.
Nevertheless, opinion polls show he holds a commanding lead over Republican rivals to face Biden next year.