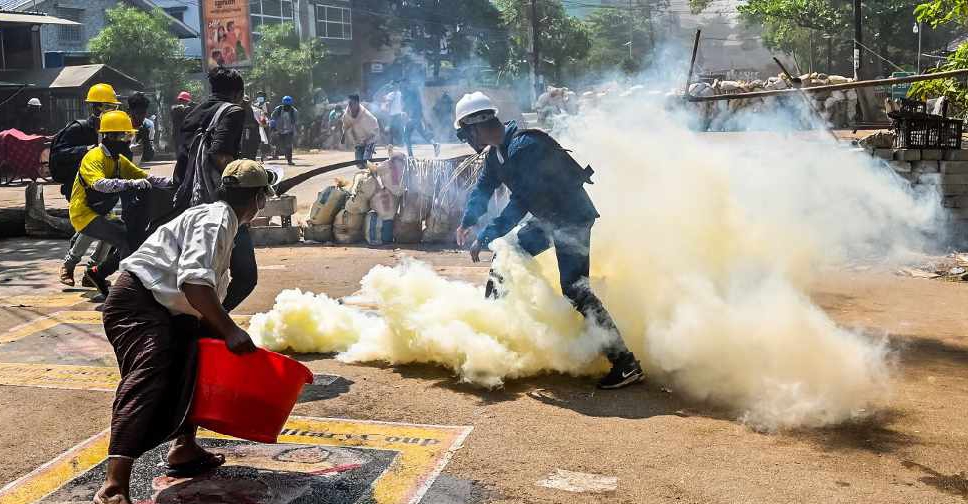 STR / AFP
Opponents of Myanmar's coup protested again on Saturday as international pressure on the military junta to halt its repression of pro-democracy supporters increased.
Two people were killed when soldiers opened fire overnight in the northern ruby-mining town of Mogok, the Myanmar Now news portal reported. That took the death toll since the February 1 coup to 237, according to a tally by the Assistance Association for Political Prisoners activist group.
The bloodshed has not quelled the anger over the ouster of the elected government and the detention of its leader, Aung San Suu Kyi, though some protest organisers say they have had to adapt their tactics.
"We protest where there are no police or military, then when we hear they're coming, we disperse quickly," campaigner Kyaw Min Htike told Reuters from Dawei in the south before he and others staged a brief rally outside the town centre.
"I don't want to lose a single one of my comrades but we'll protest any way we can until our revolution prevails."
Dozens of protesters gathered in the second city of Mandalay, pictures from the Voice of Myanmar news portal showed. A similar number in the northeastern town of Kyaukme held up signs calling for outside intervention to end the violence.
A small group held up a protest flag in Hpa-an in the east, social media images showed.
There were no reports of violence.
UN Secretary-General Antonio Guterres on Friday condemned what he denounced as the military's continuing brutal violence. A "firm, unified international response" was urgently needed, his spokesman quoted him as saying.
UN rapporteur Tom Andrews called for sanctions in response to what he called the generals' ruthless attacks on the people. "The world must respond by cutting their access to money and weapons. Now," he wrote on Twitter.
The US House of Representatives approved legislation condemning the coup, and lawmakers decried the increasingly harsh tactics against the demonstrators.
Authorities have tightened restrictions on internet services, making information increasingly difficult to verify, and have clamped down on private media.
Ambassadors of Western countries condemned as "immoral and indefensible" the violence in the Hlaing Tharyar industrial district of the commercial capital Yangon, where dozens were killed over several days after Chinese-owned garment factories were torched last weekend.
"Internet blackouts and suppression of the media will not hide the military's abhorrent actions," they said in a statement on Friday.