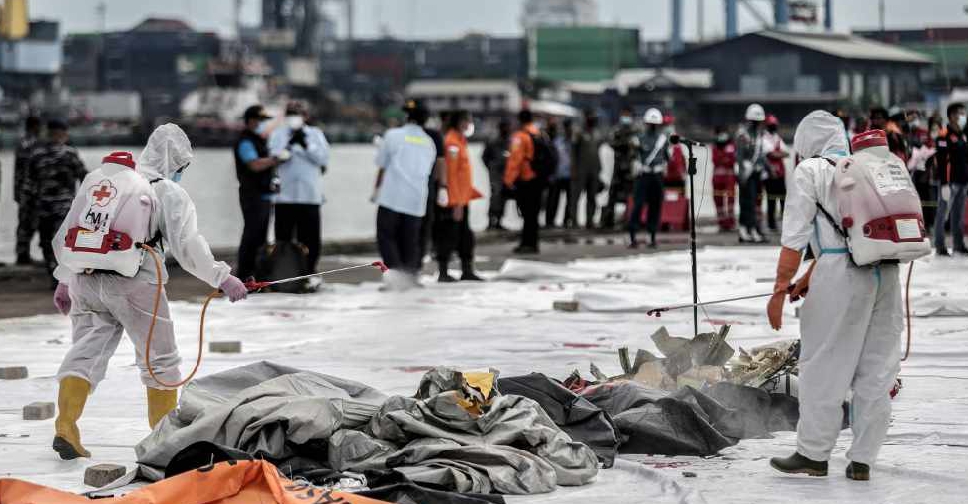 ADITYA AJI / AFP
Indonesian divers on Monday will try to retrieve the data recorders of a Sriwijaya Air jet that plunged into the sea two days ago with 62 people on board minutes after take off from Jakarta's main airport.
In a sign of the fading chance of finding survivors, the head of the search operation also said that there would be a focus on finding the bodies of victims.
The Boeing 737-500 jet was headed on a domestic flight to Pontianak on Borneo island, about 740 km from Jakarta, before it disappeared from radar screens four minutes after take-off and crashed into the Java sea.
"Anything that we can retrieve, debris, victims or anything else, we will try," search and rescue operation director Rasman MS told a briefing at a Jakarta sea port.
"The quicker we can find victims, the better."
Monday's search would be conducted in a wider area under the sea and along the coast, in case debris had been carried by the current, he said.
Around 20 additional ships would be deployed, taking the total number of rescue vessels to 53, he said.
Authorities pinpointed the area where the data recorders, known as black boxes, are located on Sunday as they lifted chunks of the jet's fuselage off the sea bed. Rescuers have also found human body parts and their personal effects.
Speaking aboard a ship, Navy official Abdul Rasyid said divers would need to navigate around jagged debris in the area where the black boxes were detected.
Nurcahyo Utomo, an investigator at Indonesia's National Transportation Safety Committee (KNKT), told Reuters the jet may have been intact before it hit the water, given that debris found so far had been scattered in a relatively tight area underwater.
One of the jet's turbines was found and shipped back to a port in Jakarta on Sunday.
The incident is the first major air crash in Indonesia since 189 passengers and crew were killed in 2018 when a Lion Air Boeing 737 MAX in 2018 also plunged into the Java Sea soon after take-off from Soekarno-Hatta International Airport.