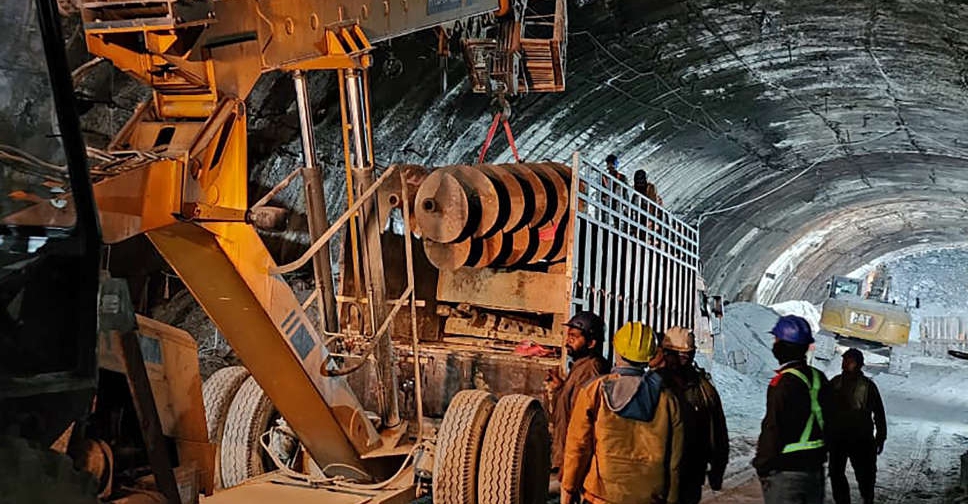 Rescue teams were unable on Wednesday to reach 40 workers trapped in a collapsed highway tunnel in India, as huge boulders were blocking efforts to create an evacuation passage, officials said.
It has been three days since the tunnel collapsed but the labourers continue to be safe and healthy, one official involved in the rescue operations told Reuters.
The trapped men have been given food, water and oxygen through a pipe since Sunday, after the tunnel caved in at 5:30 am (0000 GMT).
"A heavy machine is being brought in from New Delhi to insert an evacuation pipe as the current one is being blocked by boulders," G.S. Naveen, relief commissioner of Uttar Pradesh state, told Reuters.
There were about 50-60 men working on the night shift in the 4.5-km tunnel, which is being built in neighbouring Uttarakhand state on a national highway that is part of the Char Dham Hindu pilgrimage route.
Local media reported on Tuesday that those near the exit of the tunnel got out, while the 40 who were deeper inside were trapped.
The Char Dham highway is one of the most ambitious projects of Prime Minister Narendra Modi's government and aims to connect four pilgrimage sites in Uttarakhand through 890 km of roads being built at a cost of $1.5 billion.
The mountainous region is prone to landslides, earthquakes and floods and the incident follows events of land subsidence that geologists, residents and officials have blamed on rapid construction in the mountains.
The project has faced criticism from environmental experts and some work had been halted after hundreds of houses were damaged by subsidence along the routes.
The work on the tunnel commenced in 2018 and was intended to be completed by July 2022, which has now been delayed to May 2024, a government statement said.