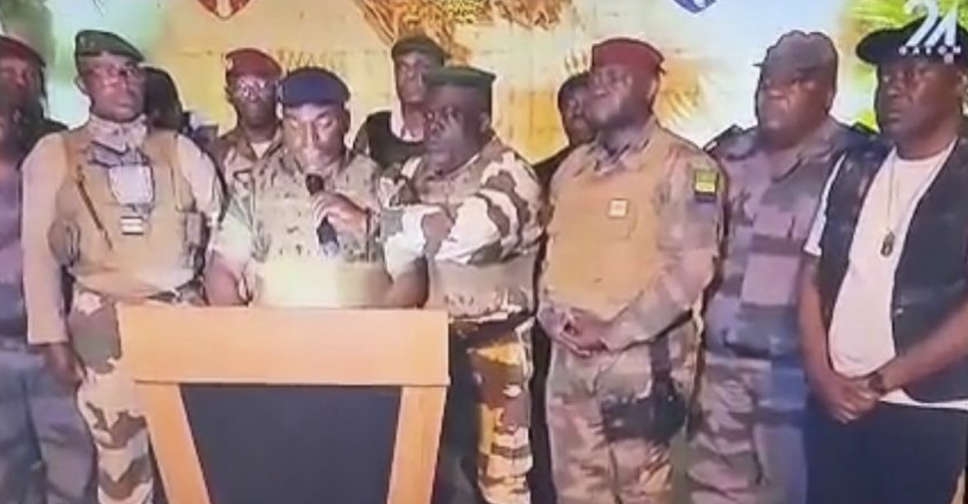 This video grab shows Gabonese soldiers announcing they were "putting an end to the current regime" (AFP)
Military officers in oil-producing Gabon said they had seized power on Wednesday, after the Central African state's election body announced that President Ali Bongo had won a third term.
A dozen senior officers appeared on television channel Gabon 24 to declare that the election results were cancelled, borders were closed and state institutions were dissolved. They said they represented all Gabon's security and defence forces.
Hundreds of people took to the streets of the capital Libreville to celebrate in the morning following the overnight announcement, which appeared to have been filmed from the presidential palace, according to the television images.
If successful, the coup would be the eighth in West and Central Africa since 2020. The latest one, in Niger, was in July. Military officers have also seized power in Mali, Guinea, Burkina Faso and Chad, erasing democratic gains since the 1990s.
The officers, calling themselves The Committee of Transition and the Restoration of Institutions, said Gabon was "undergoing a severe institutional, political, economic, and social crisis", and said the August 26 election was not transparent or credible.
Gunfire was heard briefly in Libreville after the statement announcing the ousting of Bongo, whose family have ruled the oil and manganese producer for more than half a century. But the streets were largely calm before celebrations erupted. Police officers guarded major city intersections.
There was no immediate comment from Gabon's government and there were no immediate reports on the whereabouts of Bongo, 64, who was last seen in public casting his vote on Saturday.
The president had appeared in public before the vote looking healthier than previous rare and frail television appearances following a stroke in 2019.
French Prime Minister Elisabeth Borne said France, Gabon's former colonial ruler, was following the situation closely.
The coup creates more uncertainty for France's presence in the region. It has about 350 troops stationed in Gabon. French forces were kicked out of Mali and Burkina Faso after coups in those countries, amid a wave of anti-French sentiment, and the coup leaders in Niger have also ordered them to leave.
China's foreign ministry called for the situation in Gabon to be resolved peacefully and said the personal safety of Bongo, who visited China in April, should be ensured.