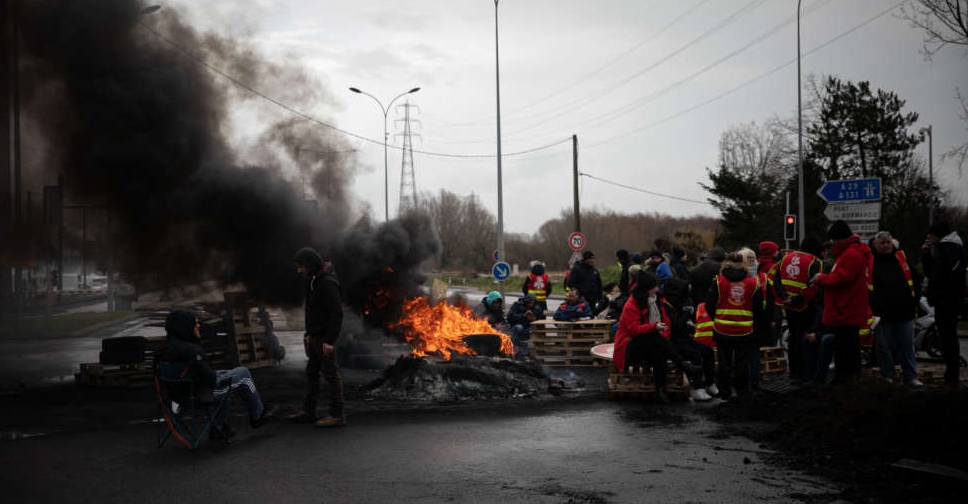 AFP
TotalEnergies' refinery deliveries were suspended on Wednesday, electricity output reduced and train services disrupted as those sectors remained on strike after a nationwide day of industrial action brought record numbers of people onto the streets.
Around 1.28 million people participated in a sixth day of protests against a draft law that would see the pension age delayed by two years to 64.
This is a critical time for the labour union and the government since President Emmanuel Macron hopes parliament will adopt his plan before April.
Unions are trying to mount pressure on the government with strikes prolonged in some sectors, including at TotalEnergies oil refineries. It was the first time unions have decided on rolling strikes since the protest movement started at the end of January.
TotalEnergies said 54 per cent of its 269 refinery workers on shift this Wednesday were on strike.
Strikes continued at Esso's refineries in Fos in northern France, and in Port Jerome in southern France, blocking fuel deliveries, Germinal Lancelin, a representative for the CGT union, told Reuters. Some 90 per cent of Fos workers were on strike and 20 per cent of those at Port Jerome, he said.
Access to TotalEnergies' refinery in Gonfreville l'Orcher, in northern France, was still blocked by unionists at a motorway roundabout exit, with wood pallets and tires set on fire, according to observations by a Reuters photographer.
At the same roundabout, a main exit for parts of Le Havre port, trucks waited in line and were unable to proceed.
The four French LNG terminals and all of the gas storage facilities also remained blocked, FNME-CGT representative Fabrice Coudour said.
The disruptions to the LNG import terminals and cold weather across northwest Europe is affecting the European supply-demand balance, causing forward power prices to rebound, Rystad analyst Fabian Ronningen said.
CGT unionist Fabrice Coudour said that river shipping on the French part of the Rhine was blocked by industrial action.
TRANSPORT WOES
French power production was reduced by 11.2 gigawatts (GW) on Wednesday morning as the strike affected nuclear, thermal and hydropower plants, operator EDF data showed. The supply reduction was equivalent to about 18 per cent of total production.
Strikes have had a large impact on power demand, Kpler analyst Emeric de Vigan told Reuters, and reduced nuclear generation was mostly being replaced by coal or gas, emitting a lot more carbon dioxide.
However, a big drop in generation generally means the supply-demand balance is quite relaxed, he added.
Railway traffic continued to be affected by the strike, though to a lesser degree than on Tuesday, with one in three high-speed trains running, on average, and one in three local trains.
Transport will continue to be disrupted on Thursday and Friday, Transport Minister Clement Beaune said, with about 20 per cent fewer flights at Paris' main airport Roissy Charles-de-Gaulle, and a drop of 30 per cent in Orly.
At Paris' Gare de Lyon railway station, some commuters supported the strike, despite the inconvenience.
"Of course, I understand it ... because I will myself be impacted (by the reform,)" administrative assistant Celine Villerette said.
But others were less enthused.
"All those who promise you that you can retire at 60 years old and that you'll earn more (in pensions), I don't believe them - you just have to look at the reality of the economy," said commercial agent Arnaud Delacour.
Senators are set to continue to debate the pension bill on Wednesday.