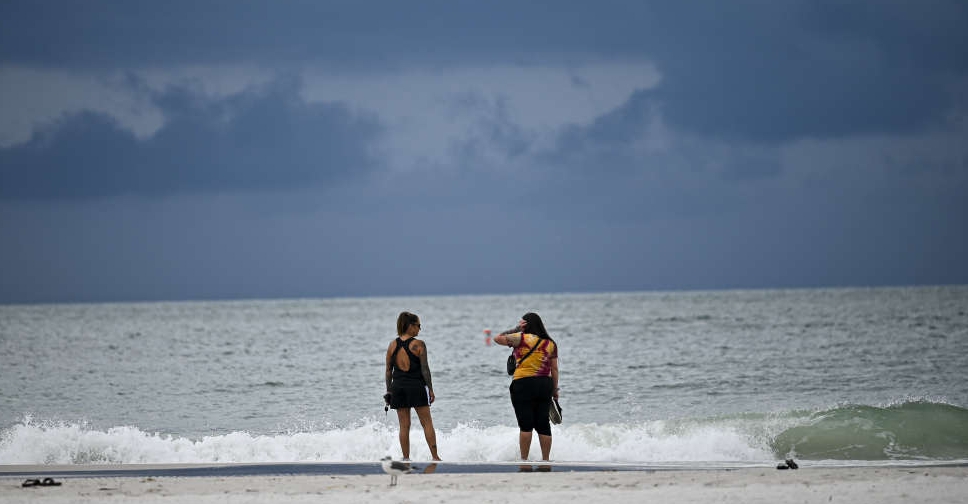 AFP
Hurricane Idalia made landfall in Florida as an "extremely dangerous" Category 3 storm on Wednesday after millions of residents evacuated or hunkered down in homes and shelters to await the arrival of a life-threatening storm surge.
Drawing strength from the Gulf of Mexico's warm waters, Idalia was forecast to unleash destructive winds and torrential downpours that will cause coastal flooding up to 16 feet deep.
"Don't put your life at risk by doing anything dumb at this point. This thing's powerful," Governor Ron DeSantis said during a morning news briefing in Tallahassee that was interrupted for a few seconds by a power cut.
The NHC said Idalia made landfall at 7:45 am EDT at Keaton Beach in Florida's Big Bend region, where the state's northern Gulf Coast panhandle curves into the western side of the Florida Peninsula, roughly bounded by the inland cities of Gainesville and Tallahassee, the state capital.
Overnight, Idalia attained "an extremely dangerous Category 4 intensity" on the five-step Saffir-Simpson wind scale on its way to landfall in Florida Wednesday morning, the National Hurricane Center (NHC) in Miami said.
But as of 7:00 am EDT (0900 GMT) it weakened slightly, slipping into Category 3, with maximum sustained winds of 201 km. Any storm reaching Category 3 or higher is considered a major hurricane.
Most of Florida's 21 million residents, and many in the adjacent states of Georgia and South Carolina, were under hurricane warnings and other storm-related advisories. State emergency declarations were issued in all three.
Florida's Gulf Coast, southeastern Georgia and eastern parts of North and South Carolina could face 10 to 20 cm of rain through Thursday, with isolated areas seeing as much as 30 cm rain, the hurricane center warned.
Officials said the storm's most dangerous feature would be a powerful surge of wind-driven surf that is expected to flood barrier islands and other low-lying areas along the coast.
Surge warnings were posted for hundreds of miles of shoreline, from Sarasota to the sport fishing haven of Indian Pass at the western end of Apalachicola Bay. In some areas, the surge of water could rise 12 to 16 feet (3.7 to 4.9 m), the NHC said.
"If you end up with a storm surge that even approaches 16 feet, the chances of surviving that are not great," DeSantis said. "You would need to be in a three-story building because it is going to rise very, very high."
At the White House on Tuesday, US President Biden said he and Florida Governor Ron DeSantis, who is seeking the Republican nomination to challenge Biden in the 2024 presidential election, were "in constant contact" about storm preparations.
Biden was set to speak about the government's hurricane response efforts later on Wednesday.
Idalia-related disruptions extended to Florida's Atlantic coast at Cape Canaveral, where the Tuesday launch of a rocket carrying a U.S. Space Force intelligence satellite was delayed indefinitely.
Idalia grew from a tropical storm into a hurricane early on Tuesday, a day after passing west of Cuba, where it damaged homes, knocked out power, flooded villages and prompted mass evacuations.
It will be the fourth major hurricane to strike Florida in the past seven years, following Irma in 2017, Michael in 2018 and Ian, which peaked at Category 5, last September.
More than 40 school districts in Florida cancelled classes, DeSantis said, and Tampa International Airport suspended commercial operations on Tuesday.
About 5,500 National Guard members were mobilized, while 30,000 to 40,000 electricity workers were on standby. The state has set aside 1.1 million gallons of gasoline to address interruptions to fuel supplies, the governor said.
In Sarasota - a city hard-hit by Ian last year - Milton Bontrager, 40, who runs a charter fishing service near Tampa, said his home was boarded up and stocked with food, water and a generator, and his boats were secure.
"I don't panic, I prepare," he said on Tuesday.