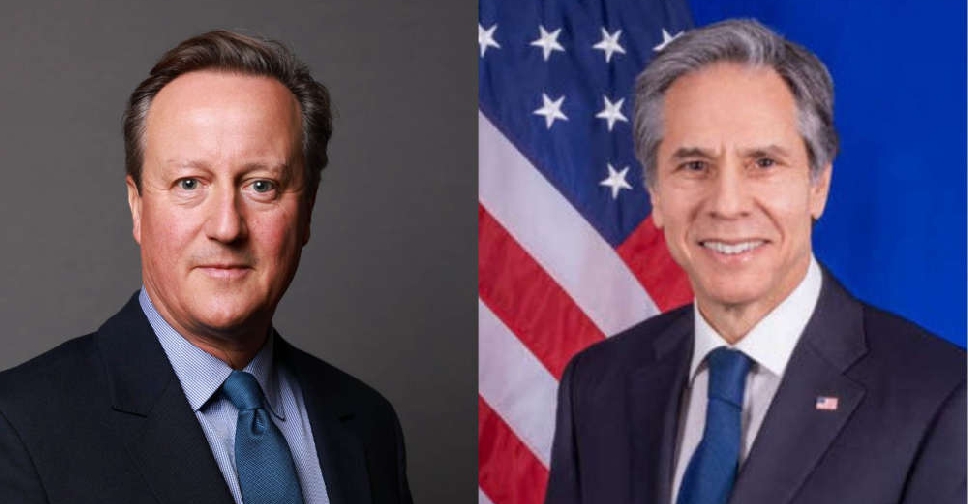 US Secretary of State Antony Blinken and newly appointed British foreign minister David Cameron discussed the Israel-Hamas conflict, relations with China and help for Ukraine during a telephone call on Monday, the State Department said.
"Secretary Blinken and Lord Cameron underscored continuity in the US-UK special relationship and its importance to regional and global security," State Department spokesperson Matthew Miller said in a readout of the conversation.
Foreign Secretary @David_Cameron spoke to @SecBlinken this evening.

They discussed the conflict in the Middle East, Israel's right to self defence and the need for humanitarian pauses to allow the safe passage of aid into Gaza.

They also expressed their continued support for…

— Foreign, Commonwealth & Development Office (@FCDOGovUK) November 13, 2023
On Monday, British Prime Minister Rishi Sunak brought back former leader David Cameron as foreign minister in a reshuffle triggered by his firing of interior minister Suella Braverman after her criticism of police threatened his authority.
It was the latest reset for a prime minister whose Conservative Party is badly lagging the Labour Party before an election expected next year. Cameron's return suggested Sunak wanted to bring in a more centrist, experienced hand rather than appease the populist right of his party which backed Braverman.
It also reawakens divisive debate over Brexit: Cameron held the referendum on European Union membership in 2016 and was hated by many on the right of the party after he campaigned to remain. He quit soon after Britain voted 52%-48% to leave.