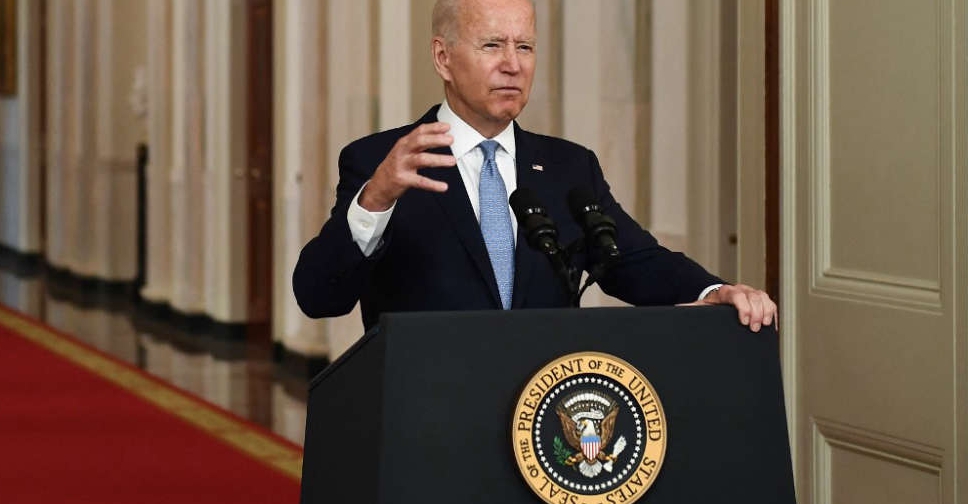 Facing sharp criticism over the tumultuous US withdrawal from Afghanistan, President Joe Biden said it was the best available option to end both the US' longest war and decades of fruitless efforts to remake other countries through military force.
Biden portrayed the chaotic exit as a logistical success that would have been just as messy even if it had been launched weeks earlier, while staying in the country would have required committing more American troops.
"I was not going to extend this forever war," he said in a speech from the White House.
Earlier in the day, the Taliban, which seized control of Afghanistan in a lightning advance this month, fired guns into the air and paraded coffins draped in US and NATO flags as they celebrated their victory.
In his first remarks since the final pullout of US forces on Monday, Biden said 5,500 Americans had been evacuated and that the United States had leverage over the Taliban to ensure 100 to 200 others could also depart if they wanted to.
He said Washington would continue to target those who posed a threat to the United States, but would no longer use its military to try to build democratic societies in places that had never had them.
"This decision about Afghanistan is not just about Afghanistan. It's about ending an era of major military operations to remake other countries," he said.
The Taliban now control more territory than when they last ruled before being ousted in 2001 at the start of America's longest war, which took the lives of nearly 2,500 US troops and an estimated 240,000 Afghans, and cost some $2 trillion.
More than 123,000 people were evacuated from Kabul in a massive but chaotic airlift by the United States and its allies over the past two weeks, but many of those who helped Western nations during the war were left behind.
Biden said the only other option would have been to step up the fight and continue a war that "should have ended long ago".
Starting the withdrawal in June or July, as some have suggested, would only have hastened the Taliban's victory, he said.
But Biden's decision was far from popular and he has faced criticism from Republicans and fellow Democrats, as well as from foreign allies.
US Senate Republican leader Mitch McConnell said the departure had abandoned Americans behind enemy lines.
"We are less safe as a result of this self-inflicted wound," he said in his home state of Kentucky.