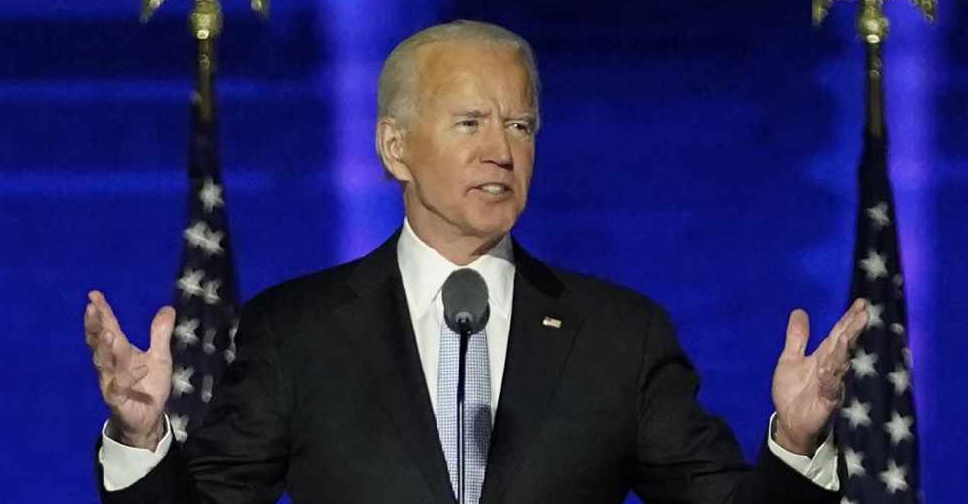 POOL / GETTY IMAGES NORTH AMERICA / GETTY IMAGES VIA AFP
President-elect Joe Biden declared it was "time to heal" a deeply divided America in his first speech after prevailing on Saturday in a bitter election, even as President Donald Trump refused to concede.
Biden's victory in the battleground state of Pennsylvania put him over the threshold of 270 Electoral College votes he needed to clinch the presidency, ending four days of nail-biting suspense and sending his supporters into the streets of major cities in celebration.
"The people of this nation have spoken. They have delivered us a clear victory, a convincing victory," Biden told honking and cheering supporters in a parking lot in his home town of Wilmington, Delaware.
The Democrat pledged that as president he would seek to unify the country and "marshal the forces of decency" to battle the coronavirus pandemic, rebuild economic prosperity, secure healthcare for American families and root out systemic racism.
Without mentioning his Republican rival directly, Biden addressed the 70 million Americans who cast ballots in support of Trump, some of whom took to the streets on Saturday to demonstrate against the results.
"For all those of you who voted for President Trump, I understand the disappointment tonight. I've lost a couple of times myself. But now, let's give each other a chance. It's time to put away the harsh rhetoric, lower the temperature, see each other again, listen to each other again," he said.
"This is the time to heal in America."
He also thanked Black voters, saying that even at his campaign's lowest moments the African American community had stood up for him. "They always have my back, and I'll have yours," he said.
Biden was introduced by his running mate, US Senator Kamala Harris, who will be the first woman, the first Black American and the first American of Asian descent to serve as vice president, the country's No. 2 office.
"What a testament it is to Joe's character that he had the audacity to break one of the most substantial barriers that exists in our country, and select a woman as his vice president," Harris said.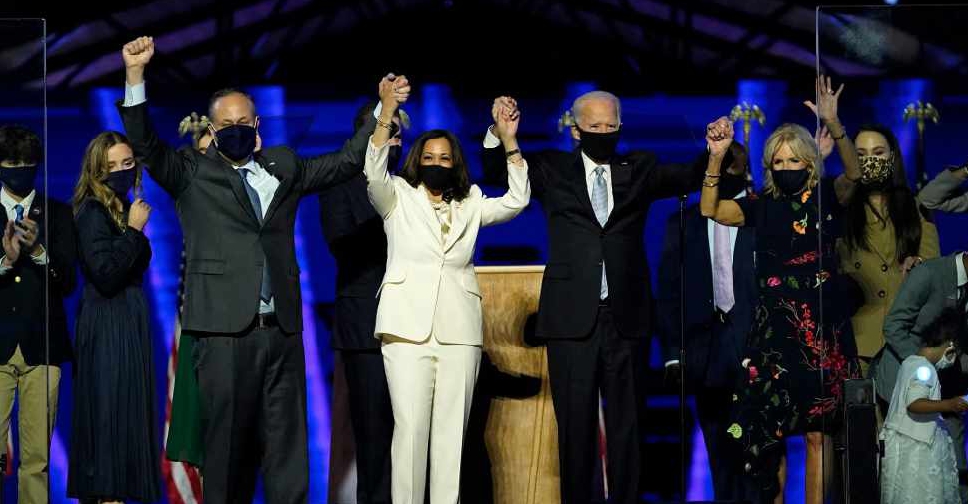 As the news of his win broke, cheers and applause were heard around Washington, with people emerging onto balconies, honking car horns and banging pots. The wave of noise in the nation's capital built as more people learned of the news. Some sobbed. Music began to play, "We are the Champions" blared.
In the Brooklyn neighbourhood of Bedford-Stuyvesant, some people erupted in screams of joy as word spread. Several residents danced on the fire escape of one building, cheering while others screamed "yes!" as they passed by.
Trump supporters reacted with a mix of disappointment, suspicion and resignation, highlighting the difficult task that Biden faces winning over many Americans in more rural areas who believe Trump was the first president to govern with their interests at heart.
Angry pro-Trump "Stop the Steal" demonstrators gathered at state capitol buildings in Michigan, Pennsylvania, and Arizona. Protesters in Phoenix chanted "We want audits!" One speaker told the crowd: "We will win in court!"