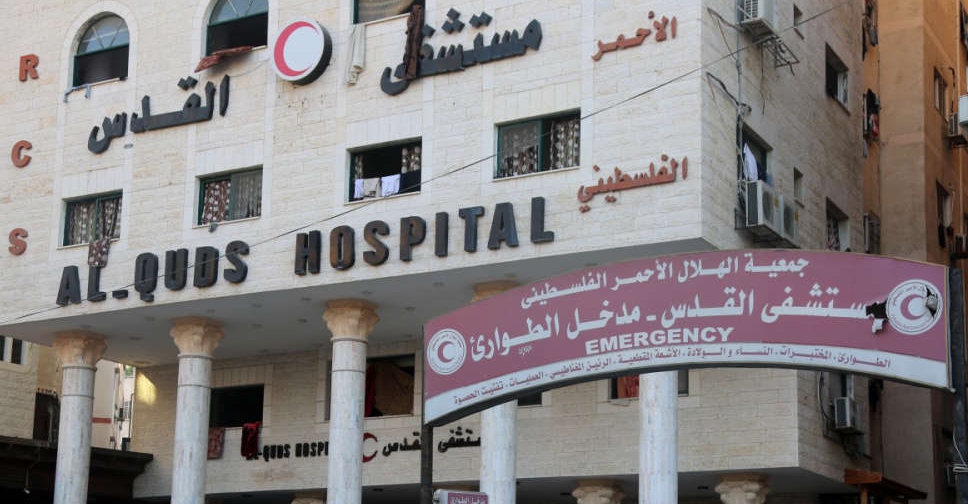 The health system inside Al Quds Hospital in the Gaza Strip is on the verge of collapse due to the lack of fuel, with services likely to stop within three hours.
The spokeswoman for the Palestinian Red Crescent, Nepal Farsakh, said in a statement.
She also revealed that about 500 sick and wounded people will be deprived of the health care they were receiving inside the hospital, warning that patients in the intensive care room and children in incubators will lose their lives.
Regarding the patients' situation after the hospital announced it would stop its services within the coming hours, the Red Crescent spokeswoman added: "We do not know, as communications have been cut off from colleagues there, and the hospital is still isolated due to the closure of all roads leading to it, apart from the continuous bombing."
She continued her speech by saying: "Before the situation became like this, we had announced that we did not have the necessary capabilities to ensure the safe evacuation of patients, specifically those in the intensive care room and infants in incubators, and evacuating them would mean losing their lives.
Targeting Al-Quds Hospital
Earlier on Friday, the Palestinian Red Crescent Society condemned the Israeli army's direct targeting of Al Quds Hospital, which led to the death of one displaced person and the injury of 28 others, two of whom were in critical condition, in addition to direct fire on the hospital's intensive care room.
This coincides with the continued interruption of Internet and communications services for the third day in a row and with the hospital continuing to be isolated from its surroundings for the fifth day in a row as a result of the closure of all roads leading to it as a result of the continuous bombing that led to the destruction of buildings and surrounding streets.
The Red Crescent appealed to the international community and the International Committee of the Red Cross to intervene immediately and urgently to protect Al-Quds Hospital and its medical staff, 500 patients, and more than 14,000 displaced persons under international humanitarian law, and the need to deliver medical and humanitarian aid urgently.
Several measures were taken to deal with the fuel shortage crisis, including suspending the surgical department, MRI and X-ray department, and the oxygen generation plant to rely on oxygen cylinders.
The World Health Organisation launched an urgent appeal "for the sake of humanity" and demanded a ceasefire with the acceleration of the entry of medical and humanitarian aid to stop the "imminent catastrophe."