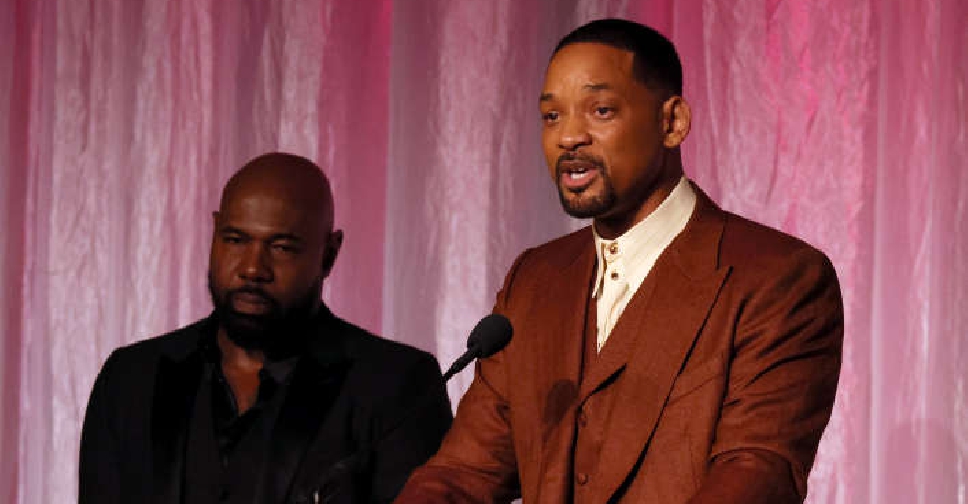 Actor Will Smith made his return to the awards stage on Wednesday when he accepted the Beacon Award at the African American Film Critics Association Awards in person.
The award marks Smith's first in-person acceptance since his controversial moment at the 2022 Academy Awards, where he slapped Chris Rock on stage.
Smith received the award alongside his Emancipation director Antoine Fuqua, who kicked off the acceptance speech by explaining the significance of the Beacon Award. Fuqua said the award was intended to highlight films that tackle challenging subjects with insight, while enlightening and engaging the audience.
Fuqua continued by expressing his hope that Emancipation, the film he directed with Smith, would bring to life Peter's triumphant story, his unwavering faith, and deep love for his family. The director thanked Apple, AAFCA, and the film's cast and crew before handing the microphone over to Smith.
In his acceptance speech, Smith shared that Emancipation was the most individually difficult film of his entire career. He highlighted the challenges of transporting a modern mind to that time period and imagining the level of inhumanity that existed during slavery.
The actor went on to recall his experience filming the AppleTV+ movie, specifically a moment during a tense scene where a white co-star spontaneously spat on him. Smith shared how the incident impacted his understanding of the injustice of the slavery era.
"It was the second day of shooting and 110 degrees," Smith said. "I was in a scene with one of the white actors, and we had our lines, and the actor decided to ad-lib. So, we're doing the scene. I did my line. He did his line. And then he ad-libbed and spit in the middle of my chest. If I had pearls on, I definitely would've clutched them. I wanted to say, 'Antoineeeeee,' but I stopped, and I realised that Peter couldn't have called the director."
Smith continued, "I sat there, and I took a deep breath, and we did take two, and the actor felt that the ad-lib had gone well. So, we do take two. I do my line. He does his line and spits in the middle of my chest again. I just held in that moment, and there was a part -it makes me teary right now - there was a part of me that was grateful that I got to really understand. And then, in the distance, I hear a voice, and Antoine says, 'Hey, let's do a take without the spit.'"
Smith also thanked AAFCA and everyone in the room for their work before directing his appreciation towards Apple, who he credited for their support throughout the production of Emancipation.
"I want to thank Apple because the budget was one thing," he said. "And then the budget was another thing. And Apple never flinched. It was the first time I had heard from a studio that the story was more important than how much it costs to get it done, so then we added some more stuff that we wanted. They make iPhones. They can do it."
Prior to taking the stage, Smith was surrounded by cameras marking his first public appearance this awards season. Notably, he was absent from the NAACP Image Awards, where he won the best actor award for his portrayal of Peter. Smith later posted a thank-you message on his Instagram, praising the organisation for "the work you do all year round" and expressing how much it meant to him to be recognised in that way.
Emancipation premiered in November 2022 in Westwood and was momentarily caught in controversy when a producer posed with the original Scourged Back photograph that inspired.