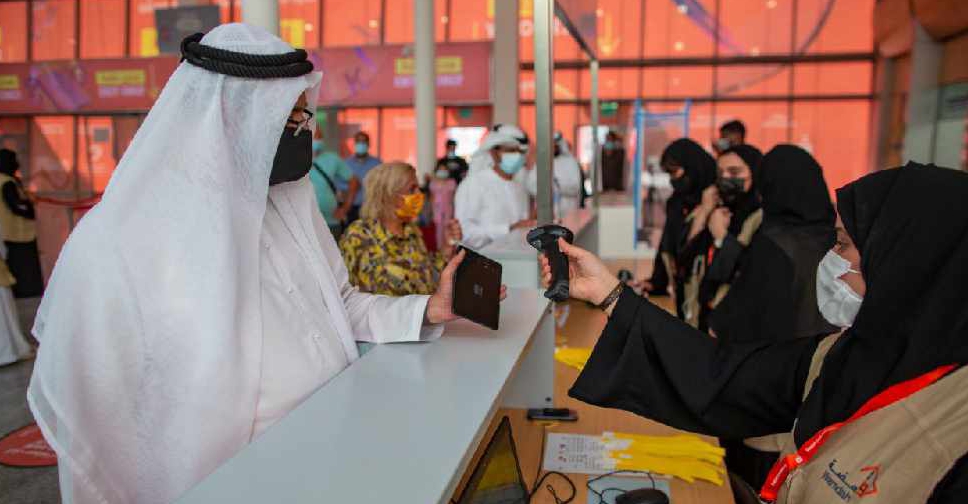 twitter/(@SharjahBookAuth)
Sharjah's annual international book show opens today with a hybrid format and other rules in line with pandemic precautionary protocols.
Physical and virtual events will be on offer throughout the 11 day fair which is open to the public.
Visitors will undergo thermal scanning and will receive coloured wrist bands to monitor their fixed three-hour attendance.
The fair's halls and publisher stalls will be sanitised and disinfected daily.
Themed "The World Reads from Sharjah", the fair will highlight how knowledge-sharing is key to human development and sustainable progress.
1,024 publishers from 73 nations are exhibiting more than 80,000 new titles in English, Arabic and other languages at the Expo Centre Sharjah.
Amongst the literary and global cultural figures taking part are Prince Ea, Robert Kiyosaki, Elisabetta Dami, Yann Martel, Ravinder Singh, Ahmed Murad, Lina Khoury, and Iman Al Yousef.
The UAE's Ministry of Education is also collaborating with the organisers to host virtual meetings between students and their favourite authors.
الكتب تستعد لاستقبال محبيها.. بيتكم الثاني بانتظاركم من الساعة العاشرة صباح الغد.
رابط التسجيل https://t.co/brw4VlFAdp

#الإمارات #هيئة_الشارقة_للكتاب #معرض_الشارقة_الدولي_للكتاب⠀⠀⠀⠀⁣⁣⁣⁣⁣⁣⁣⁣⁣⁣⁣⁣#SIBF20 pic.twitter.com/2Uh1036vyU

— Sharjah Book Authority (@SharjahBookAuth) November 3, 2020