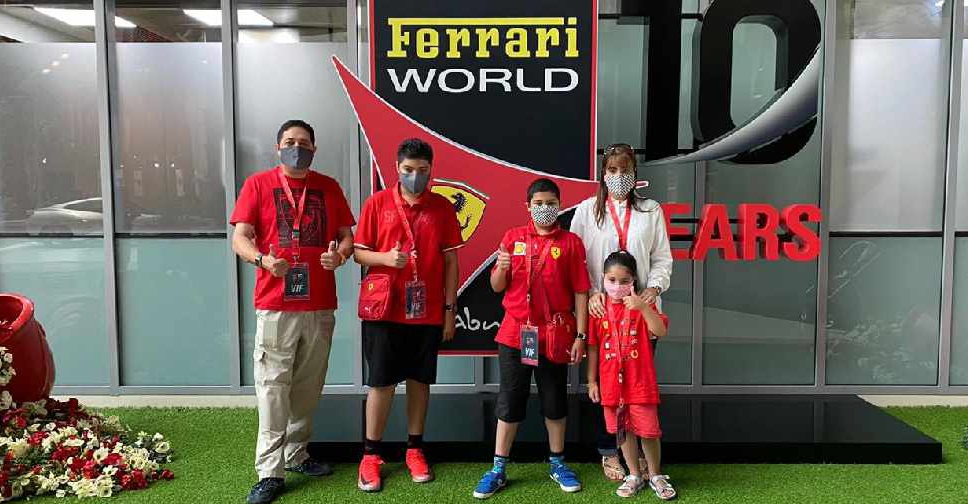 Supplied: FWAD
Despite travel restrictions earlier this year and continued precautionary measures, the Pervaiz family have been lucky enough to return to the UAE this year for their tenth time.
Saj and Farzana Pervaiz and their three children have made it a family tradition to visit the UAE each year, travelling from their home in the UK.
"Every year we come to Dubai for our annual holiday, make it a point to drive to Abu Dhabi just so we can visit Ferrari World Abu Dhabi," they say. "We have been coming back for almost 10 years now."
With the global pandemic, the family of five might have questioned whether it would be possible to continue their tradition earlier in the year, but Dubai has safely reopened for business and tourism.
So has Ferrari World Abu Dhabi, throwing open its doors to visitors again on July 29 after being closed for several months due to COVID-19.
To mark their ten year anniversary of returning to the theme park, they were given a special welcome.
"We had a marvelous time at Ferrari World Abu Dhabi, like we always do," said Saj and Farzana Pervaiz. "Everyone makes us feel so welcome."
"The kids have grown up with Ferrari World Abu Dhabi and we can't tell who loves it more, us or them," they continued.
Ferrari World Abu Dhabi will turn 10 years old this November.