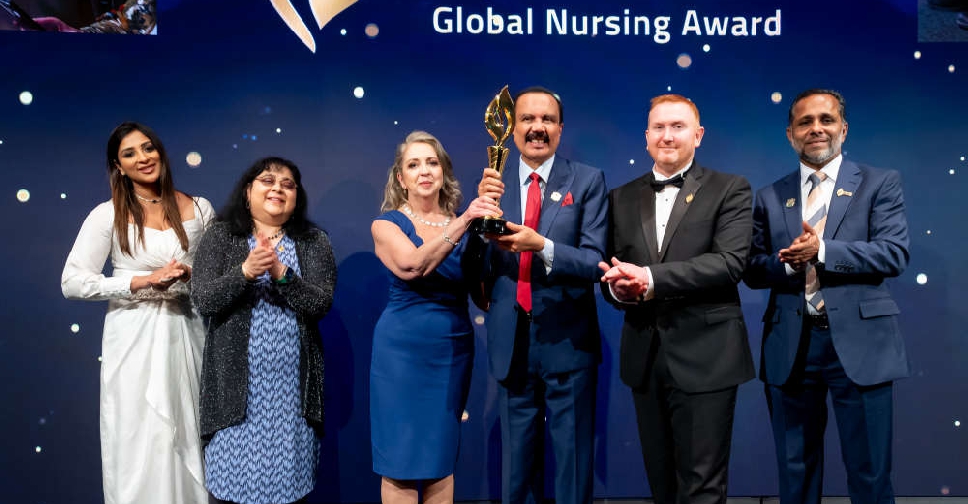 Supplied
A nurse from the United Kingdom has won the Aster Guardians Global Nursing Award 2023.
Margaret Helen Shepherd from the UK was awarded at a ceremony held at Queen Elizabeth II Centre in London on Friday. The award was announced by Dr. Azad Moopen, Founder Chairman and Managing Director of Aster DM Healthcare.
The Aster Guardians Global Nursing Award aims to recognise the selfless contribution of nurses to millions of patients worldwide. It was originally launched in May 2021 on International Nurses Day.

The 2023 edition received an overwhelming number of entries with over 52,000 nurses applying from 202 countries, marking a 116% growth from 2022 when it received 24,000 applications.

Margaret Shephard has dedicated her career to improving diabetes care through better diagnosis.

Shephard is the leading nurse for monogenic diabetes in the UK and provides advice to clinicians across the world regarding the management of this condition.

She set up a national network of genetic diabetes nurses in 2002 to increase awareness of this condition (which is initially misdiagnosed in 80% of cases, resulting in patients being treated with unnecessary insulin injections).

She is also one of 70 Senior Nurse Research Leaders (driving innovation and new roles to increase research awareness and engagement within clinical care) and has received the prestigious Florence Nightingale Foundation Leadership Scholarship.
On winning the award, Nurse Margaret said, "I am deeply humbled and grateful to receive the prestigious Aster Guardians Global Nursing Award. As healthcare professionals, we are privileged to be able to make a positive impact on the lives of our patients, and I feel blessed to be part of such a rewarding profession. "

Dr. Azad Moopen, Founder Chairman and Managing Director of Aster DM Healthcare said, "She has exemplified the highest standards of patient care and dedication that is inspirational, and it deserves global recognition. "
Ms. Alisha Moopen, Deputy Managing Director, Aster DM Healthcare said, "Aster Guardians Global Nursing Award is a small yet significant expression of gratitude that aligns with this year's International Nurses Day theme, 'Our Nurses. Our Future'. Nurses ensure that patients receive high-quality care and often go beyond their call of duty to ensure that the right care is provided. This often helps them develop into other areas like research, innovation, mentorship, education, digitization among others as the stories of this year's finalists and the winner have showcased"
The rest of the nine finalists were awarded cash prizes.

They included Cathy Cribben-Pearse from the UAE, Christine Mawia Sammy from Kenya, Gloria Ceballo from Panama, Jincy Jerry from Ireland, Lilian Yew Siew Mee from Singapore, Michael Joseph Dino from Philippines, Shanti Teresa Lakra from India, Teresa Fraga from Portugal, and Wilson Fungameza Gwessa from Tanzania.