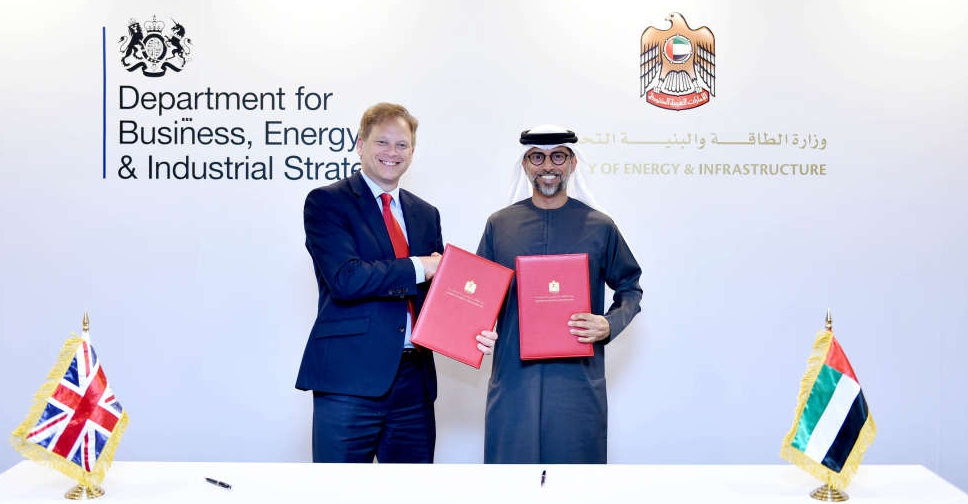 WAM
The UAE and the UK have signed a Memorandum of Understanding to enhance strategic and technical cooperation in the energy sector.
It aims to facilitate the sharing of technical knowledge, advice, skills and expertise, and open up new avenues for cooperation on energy and climate.
The signing ceremony in Abu Dhabi was attended by Suhail bin Mohammed Al Mazrouei, UAE Minister of Energy and Infrastructure.
The MoU was signed by Sharif Al Olama, Under-Secretary at the UAE Ministry of Energy and Infrastructure, and Grant Shapps, UK Secretary of State for Business, Energy and Industrial Strategy.
The agreement will help develop renewable energy technologies including regulatory frameworks and incentives, and will step up cooperation in environmentally sustainable transportation, biomass projects, waste conversion to energy, and carbon capture, utilisation and storage projects.
It also stresses the two countries' cooperation in peaceful nuclear energy and related policies and technology, low-carbon hydrogen, holding high-level meetings to discuss and consider issues of mutual benefit, and organising workshops for events related to the industry.
Al Mazrouei said the MoU is "greatly significant in light of the common interest of both countries as it helps them implement an energy policy that would provide low-carbon, safe and sustainable energy supplies at affordable prices."
He praised the bilateral relations between the UAE and the UK, and added that the MoU is a reflection of the historical relations between the two nations.