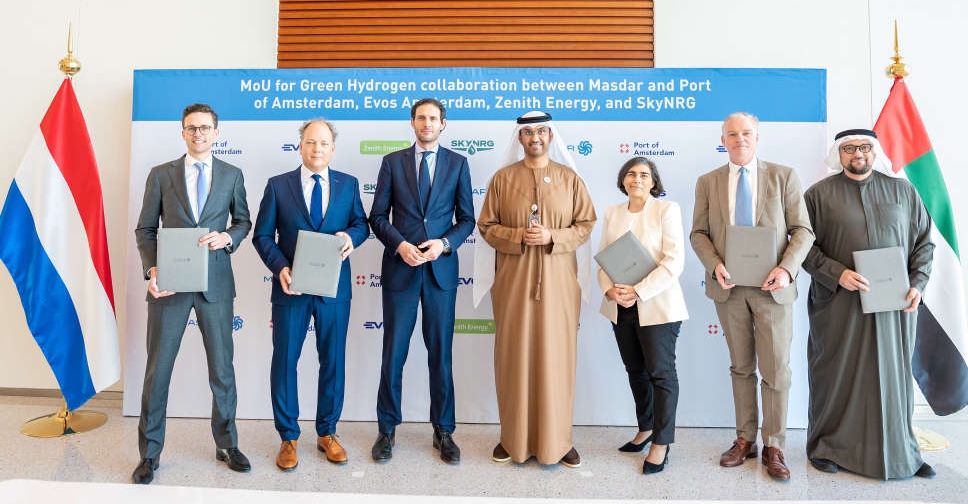 WAM
Masdar has signed a Memorandum of Understanding (MoU) with four Dutch companies to explore the development of a green hydrogen supply chain to support Dutch and European markets.
The MoU was signed by Mohamed Jameel Al Ramahi, Chief Executive Officer of Masdar, one of the leading clean energy companies, Gert-Jan Nieuwenhuizen, Managing Director for the Port of Amsterdam, Maarten van Dijk, Chief Development Officer of SkyNRG, Bart van der Meer, Business Development Manager of Evos Amsterdam, and Ellen Ruhotas, Managing Director New Energies for Zenith Energy.
The agreement was signed in the presence of Dr. Sultan bin Ahmed Al Jaber, Minister of Industry and Advanced Technology, COP28 President-Designate, and Chairman of Masdar, and Wopke Hoekstra, Minister of Foreign Affairs for the Netherlands.
Green hydrogen is produced with green electricity from renewables like wind or solar in a process that separates water into oxygen and hydrogen via electrolysis.
Dr. Al Jaber said, "This agreement builds upon the existing relationship between the UAE and the Netherlands and demonstrates our mutual commitment to exploring low- and zero-carbon energy solutions. The UAE aims to play a central role in the emerging green hydrogen economy, and this partnership with the Port of Amsterdam and associated players in the green hydrogen space would help position Abu Dhabi as a key hub for green hydrogen development."
The International Renewable Energy Agency has stated that hydrogen will be an essential component of a net-zero energy system and has a key role to play in decarbonising sectors that are difficult to electrify, such as heavy industry and long-haul transport.
The global green hydrogen market is projected to reach US$72 billion (AED 264.5 billion) by 2030, while PricewaterhouseCoopers (PWC) has estimated that by 2050, hydrogen demand could be between 150 and 500 million metric tonnes per year.
Mohammed Jameel Al Ramahi, Chief Executive Officer of Masdar, said, "Masdar believes green hydrogen to be a promising energy source for hard-to-abate sectors in support of global decarbonisation, which is why we launched our dedicated green hydrogen business last month. We are pleased to partner with Port of Amsterdam, SkyNRG, Evos Amsterdam, and Zenith Energy to leverage our synergies in the fuel and logistics sectors to see how green hydrogen can help us achieve our shared goals for decarbonisation and sustainable economic growth."
Last December, Masdar announced its new shareholding structure and green hydrogen business unit, with a goal of achieving 100 GW renewable energy capacity and green hydrogen production of 1 million tonnes per annum annually by 2030.
Masdar is actively involved in a number of projects related to green hydrogen production. Last year, Masdar signed agreements with leading Egyptian state-backed organisations to cooperate on the development of green hydrogen production plants in the country, targeting an electrolyser capacity of 4 gigawatts by 2030 and output of up to 480,000 tonnes of green hydrogen per year.