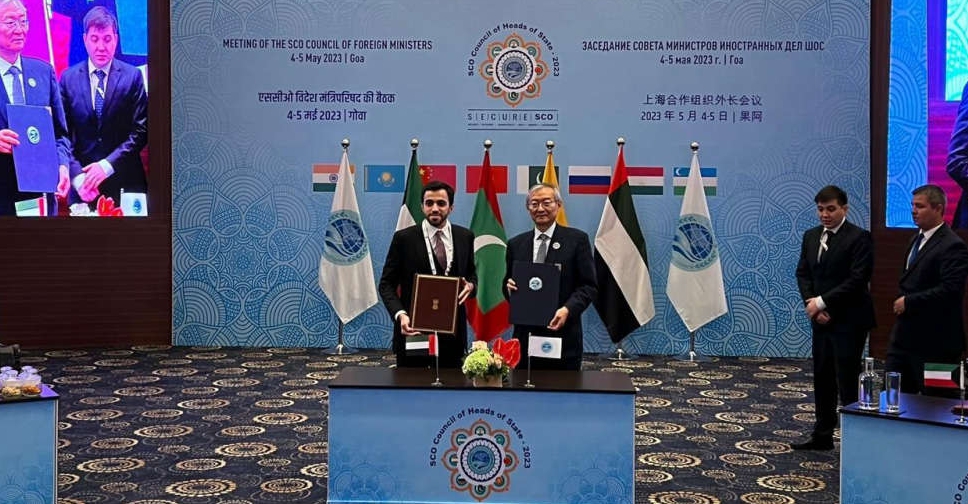 WAM
The United Arab Emirates has officially been granted Dialogue Partner status on the sidelines of the Council of Foreign Ministers Meeting of the Shanghai Cooperation Organisation (SCO), which took place in Goa, India on May 4-5.
Dr. Abdulnasser Alshaali, UAE Ambassador to India, signed the Memorandum of Understanding (MoU) concerning its accession to the SCO as a Dialogue Partner with Zhang Ming, Secretary General of the Shanghai Cooperation Organisation.
Reflecting upon the UAE's partnership with the SCO, His Highness Sheikh Abdullah bin Zayed Al Nahyan, Minister of Foreign Affairs and International Cooperation, underlined the crucial role the SCO has played over recent decades in supporting political stability and economic prosperity throughout Eurasia and beyond.
Commenting on the occasion, His Highness remarked: "As an engaged member of the international community with an unwavering commitment to multilateralism, the UAE recognises the critical importance of organisations such as the SCO in building bridges of cooperation between member states towards common objectives.
"In the coming period, the UAE will seek to make significant strides in its engagement with the SCO and its member states. As a people and country, we are delighted at being welcomed as a Dialogue Partner in an organisation whose global influence and importance only continue to grow."
The SCO was founded in June 2001 to strengthen relations among member states, promote cooperation in political affairs, economics and trade, science, culture, education, energy, transportation, tourism, and environmental protection; safeguard regional peace, security, and stability; and create an equitable international political and economic order.
#UAE granted Dialogue Partner Status in Shanghai Cooperation Organisation #WamNews https://t.co/rM2UzQ2swm pic.twitter.com/HQMhlaI1ES

— WAM English (@WAMNEWS_ENG) May 6, 2023