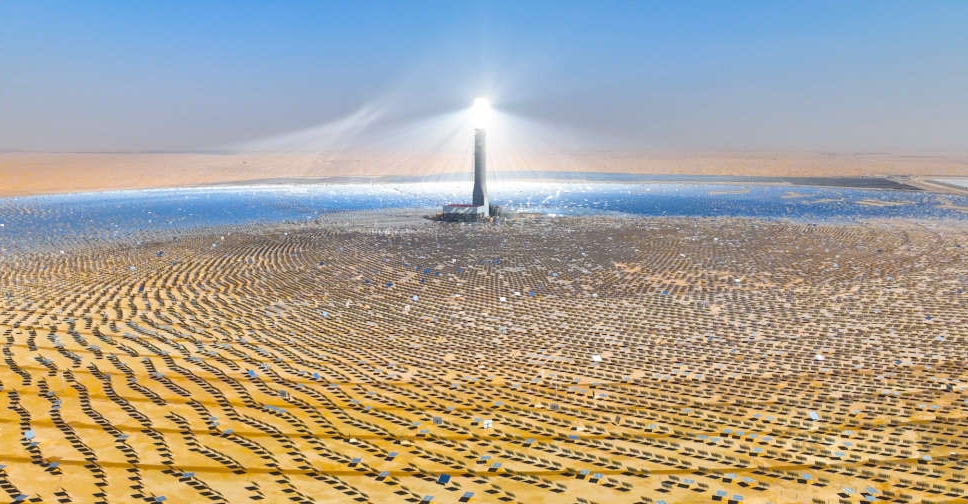 WAM
Saeed Mohammed Al Tayer, CEO of Dubai Electricity and Water Authority (DEWA), has conducted an inspection of the ongoing work at the 950MW 4th phase of the Mohammed bin Rashid Al Maktoum Solar Park.
This phase, costing AED 15.78 billion, is poised to deliver clean energy to approximately 320,000 homes and reduce annual carbon emissions by 1.6 million tonnes.
Al Tayer received updates from Noor Energy 1 officials regarding the advancement of the project, which stands as the largest single-site endeavor combining Concentrated Solar Power (CSP) and photovoltaic technology. The project's phases include completion of the first phase, covering 100MW from the solar tower, 200MW from the parabolic basin complex, and 217MW from photovoltaic panels. The second and third phases are nearing completion at 98.5 per cent and 87.1 per cent respectively.
During the visit, Al Tayer was joined by several DEWA officials. Noor Energy 1, established through a partnership between DEWA and the ACWA Power-led consortium, was tasked with the design, construction, and operation of the 4th phase. DEWA holds a 51 per cent stake in the company, ACWA Power holds 25%, and the Chinese Silk Road Fund owns 24 per cent.
The Mohammed bin Rashid Al Maktoum Solar Park is set to be the world's largest single-site solar park with a planned total capacity of 5,000 megawatts (MW) by 2030. It is a cornerstone of Dubai's Clean Energy Strategy 2050 and Net Zero Carbon Emissions Strategy. Presently, commissioned solar projects within the park account for 2,427MW, contributing to around 16.3 per cent of Dubai's energy mix. This is expected to rise to 24 per cent by 2026 as further phases are completed.
The 4th phase employs three hybrid technologies: 600MW from a parabolic basin complex, 100MW from the world's tallest solar power tower, and 250MW from photovoltaic panels. The phase has already commissioned 717MW and will boast the world's largest thermal storage capacity of 15 hours, ensuring continuous energy availability. The project is set to conclude in Q1 2024 and bolsters DEWA's drive for renewable energy and storage solutions.
950MW 4th phase of the Mohammed bin Rashid Al Maktoum Solar Park to provide clean energy for 320,000 residences, reduce carbon emissions by 1.6 mn tonnes annually#WamNews https://t.co/AzS5AZjXuQ pic.twitter.com/q7iKYZUvUj

— WAM English (@WAMNEWS_ENG) August 29, 2023