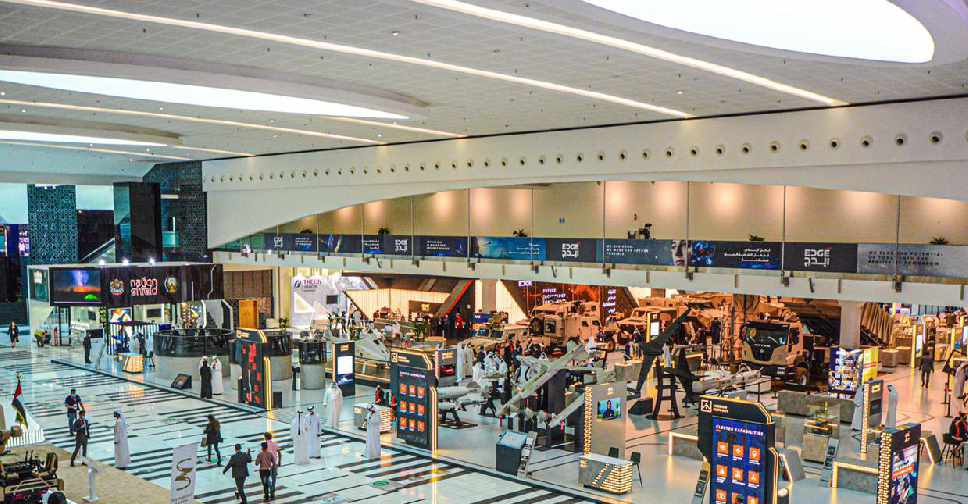 IDEX
His Highness Sheikh Mansour bin Zayed Al Nahyan, Deputy Prime Minister and Minister of Presidential Affairs, has inaugurated the 15th edition of the International Defence Exhibition (IDEX 2021).
Sheikh Mansour carried out the official opening ceremony under the patronage of President His Highness Sheikh Khalifa bin Zayed Al Nahyan, and on behalf of His Highness Sheikh Mohamed bin Zayed Al Nahyan, Crown Prince of Abu Dhabi and Deputy Supreme Commander of the UAE Armed Forces.
IDEX is being held at the Abu Dhabi National Exhibition Centre, along with the Naval Defence and Maritime Security Exhibition (NAVDEX) until February 25.
The ceremony, an exclusive event reserved for high-profile international delegates, observed the highest standards of COVID-19 precautionary and preventative measures.
In his address, Sheikh Mansour bin Zayed said "IDEX 2021 is a prominent global exhibition, demonstrating the latest military equipment, advanced weaponry, and combat technologies. It presents a regional and international opportunity for all nations and major companies who operate in this strategic field.''
He added, "Organising this event, at this time, demonstrates how the UAE is fully-equipped to manage international events, given the exceptional circumstances which the world faces as a result of the COVID-19 pandemic. Our nation's readiness to host this exhibition has been enabled by the astute guidance and insightful vision of our wise leadership.
His Highness underscored that "visionary innovation, specialised manufacturing, and cutting-edge scientific development is cornerstone priority for our nation, as made clear in our policy direction. These values will ensure an auspicious future for consecutive generations of Emiratis, alongside supporting our nation's continued succession of majestic achievements".
The inauguration featured a visual presentation telling the story of the UAE's accelerated development and global leadership, particularly during the pandemic.
In addition to several parades and musical performances, the UAE's aerobatic team, Al Fursan, carried out a fly-past with their signature smoke trails in the skies above Abu Dhabi.
Other activities included mock exercises, co-performed by land, air, and naval units.
During the drills, defence manoeuvring technology was showcased, highlighting the use of virtual reality, artificial intelligence, robotics, and satellite communications.
Mohammed bin Ahmed Al Bowardi, Minister of State for Defence Affairs; Lt. General Hamad Mohammed Thani Al Rumaithi, Chief of Staff of the UAE Armed Forces; alongside a number of senior commanders of the UAE Armed Forces were also in attendance at the ceremony.
Major General Staff Pilot Faris Khalaf Al Mazrouei, Chairman of the Higher Organising Committee for IDEX and NAVDEX, commented: "The opening of this global event is a moment of immense pride for us. IDEX and NAVDEX coincides with the Golden Jubilee of our nation, as both exhibitions continue their 27-year-old journey with a wide international turnout. The exhibitions continue to consolidate their strategic status as global platforms, presenting the latest breakthroughs in the fourth industrial revolution across the land, sea, and air defence sectors.
While Major General Pilot Staff Pilot Ishaq Saleh Al-Balushi, Head of the Executive Directorate of Industries and Development of Defence Capabilities at the Ministry of Defence, and Vice Chairman of the Higher Organising Committee for IDEX and NAVDEX, said "Thanks to the visionary guidance of our wise leadership, who proactively managed and curbed the spread of COVID-19, we have been able to host IDEX and NAVDEX during this moment. We have implemented meticulous and exhaustive procedures, specifically tailored to enable this extraordinary edition, providing the global defence community with the opportunity to safely conduct business with confidence."
Humaid Matar Al Dhaheri, Managing Director and Group CEO at the Abu Dhabi National Exhibitions Company, said: "We have designed and implemented a plethora of procedures for welcoming international delegations, exhibitors, journalists, visitors, and participants, including visa issuance for international delegations and provision of polymerase chain reaction (PCR) tests."
"Five nations will participate in IDEX and NAVDEX for the first time. 84 percent of exhibiting companies will be based internationally, while 16 percent will be UAE based," he added.
In conclusion Al Dhaheri said: "The safety and wellbeing of all participants to IDEX, NAVDEX, and the International Defence Conference is ADNEC's top priority. In close co-operation with health and regulatory authorities, ADNEC have implemented a wide range of health and safety measures which ensure the wellbeing of visitors and participants alike."
منصور بن زايد يفتتح اليوم الدورة الـ15 لمعرض الدفاع الدولي #آيدكس في #أبوظبي، اللذي يستقطب أكبر شركات الصناعات الدفاعية لعرض أحدث المعدات العسكرية والأسلحة المتطورة والتقنيات الحربية. ويستمر المعرض المقام في مركز أبوظبي الوطني للمعارض (أدنيك) حتى 25 فبراير. pic.twitter.com/7vXnSdY3qM

— مكتب أبوظبي الإعلامي (@admediaoffice) February 21, 2021