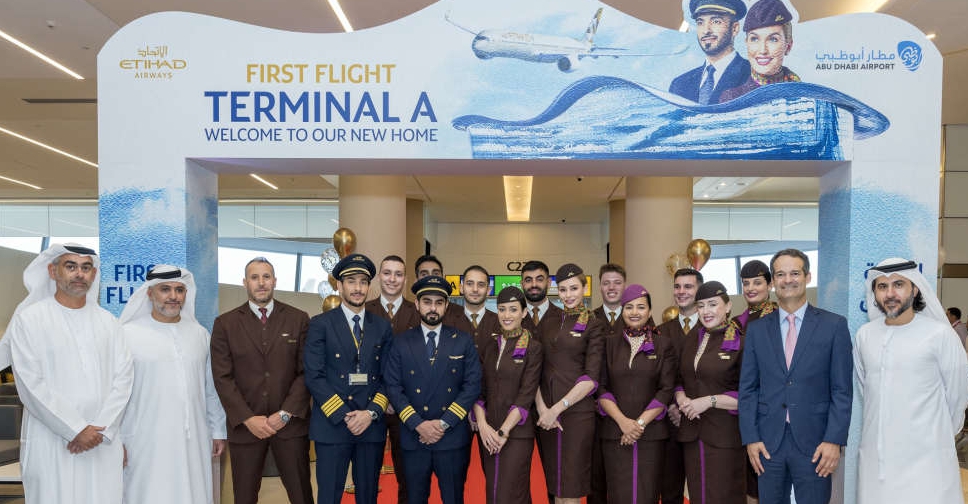 Etihad Airways operated the first commercial flight from Abu Dhabi International Airport's brand new Terminal A on Tuesday.
The ceremonial flight EY224 to New Delhi departed at 14:35 with 359 guests onboard.
Etihad and Abu Dhabi International Airport welcomed the guests who made history as they enjoyed the seamless experience of checking in at Terminal A for the first time.
To commemorate the occasion, all passengers, including those in both Economy and Business classes, had the unique opportunity to be the inaugural guests at the new flagship Etihad Lounges which span three floors at the new terminal.
After sampling a special menu of celebratory cuisine, guests made their way to Gate C27, where themed decorations and a photo booth awaited to capture this historic moment.
"Our congratulations go to the Abu Dhabi leadership for their vision in creating what is one of the world's most spectacular airports. The terminal is a stunning piece of architecture that echoes the local landscape and warmly welcomes our guests and elevates their travel experience," said Antonoaldo Neves, Chief Executive Officer, Etihad.
"As we begin our transition to our new home, we look forward to welcoming even more passengers as we continue to grow and expand our fleet and network," he added.
Elena Sorlini, Managing Director and Interim CEO at Abu Dhabi Airports, said: "Terminal A brings a significant increase to capacity, and delivers state-of-the-art facilities to both airlines and passengers. We look forward to welcoming more passengers throughout November as we continue to increase the number of flights departing and arriving at Terminal A."
The new terminal has the capability to handle up to 45 million passengers annually and connect Abu Dhabi to 117 global destinations.
It provides dedicated check-in desks for Etihad's Economy guests, as well as exclusive areas for guests travelling in Business and First to enjoy a fast-tracked, premium experience.
Additional state-of-the-art biometric self-bag drop facilities are available for all guests wishing to take advantage of a speedy check-in.
Guests flying in the airline's premium cabins can take advantage of the kerbside drop off facility outside of the First and Business class exclusive check-in area, where porters are on hand to assist with luggage.
Etihad will transition flights to Terminal A in a phased approach from November 9 and during this time the airline advises all passengers to carefully check their terminal information.
Between November 9 and 14, Etihad will operate from both Terminal A and Terminal 3, and from 11:00 am on November 14, it is set to operate all flights from Terminal A.