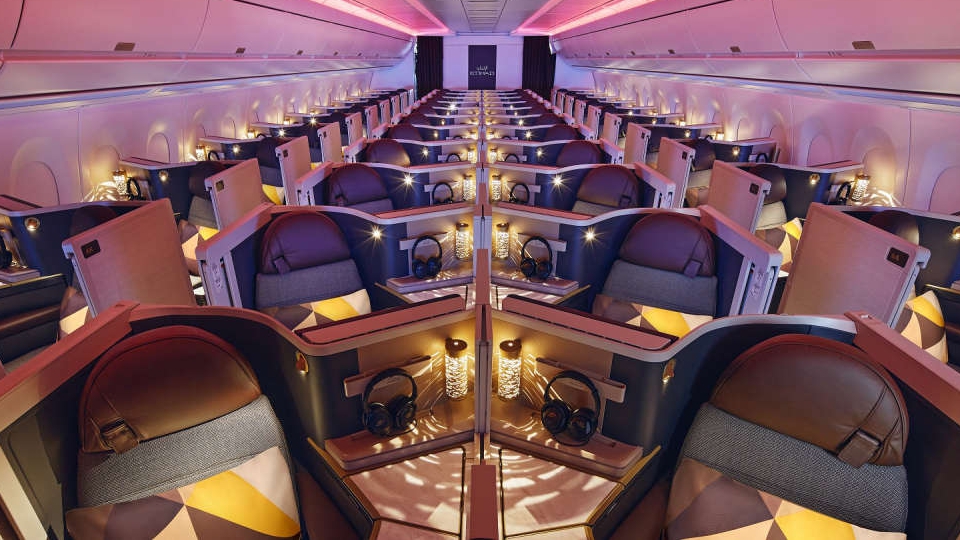 AFP
Etihad Airways on Thursday unveiled its new Airbus A350-1000, on a special inaugural flight from Abu Dhabi to Paris.
The aircraft is the first A350 to be operated by a UAE airline, and the first of five A350s set to join Etihad's fleet over the coming months.
The first flight departed Abu Dhabi for Paris Charles de Gaulle at 7:30 am on Thursday, with a delegation including diplomatic dignitaries, Etihad and Airbus representatives, media, trade partners and other VIPs.
The aircraft, named Sustainability50, carries a unique livery in recognition of the 50th anniversary of the federation of the UAE and Etihad's commitment to net-zero carbon emissions by 2050.
"The Airbus A350 is a choice well made - both for our guests and for the planet", highlighted Tony Douglas, Group Chief Executive Officer.
"With highly efficient fuel consumption and CO2 savings, the A350 will support our goals to reduce carbon emissions and deliver an unmatched flight experience for our guests."
It will join the airline's industry-leading sustainability drive as part of a programme aimed at decarbonising aviation.
Formed as a partnership between Etihad, Airbus and Rolls Royce in 2021, the Sustainability50 programme will see Etihad's A350s used as flying testbeds of new initiatives, procedures and technologies to reduce carbon emissions, building on the learnings derived from Etihad's similar Greenliner programme for the Boeing B787 aircraft type.
The Rolls-Royce Trent XWB-powered Airbus A350 is one of the most efficient aircraft types in the world, with 25 per cent less fuel burn and CO2 emissions than previous-generation twin aisle aircraft.
The A350-1000s will be deployed on a number of short to mid-range routes in the second quarter, including Mumbai and Delhi, before being introduced on ultra-long-haul operations to Chicago and New York from July.
The aircraft features Etihad's newest cabin interior which is inspired by Abu Dhabi and is both more efficient and sustainable in design.
The elevated Business class is home to 44 Business Studios with sliding doors that provide a high level of privacy to each suite. Each seat, with a width of over 20", converts into a fully-flat bed of 79" in length, and features ample storage for convenience.
Etihad's spacious Economy cabin is configured with 327 smart seats in a 3-3-3 arrangement, of which 45 'Economy Space' seats have been enhanced with an additional 4 inches of legroom.