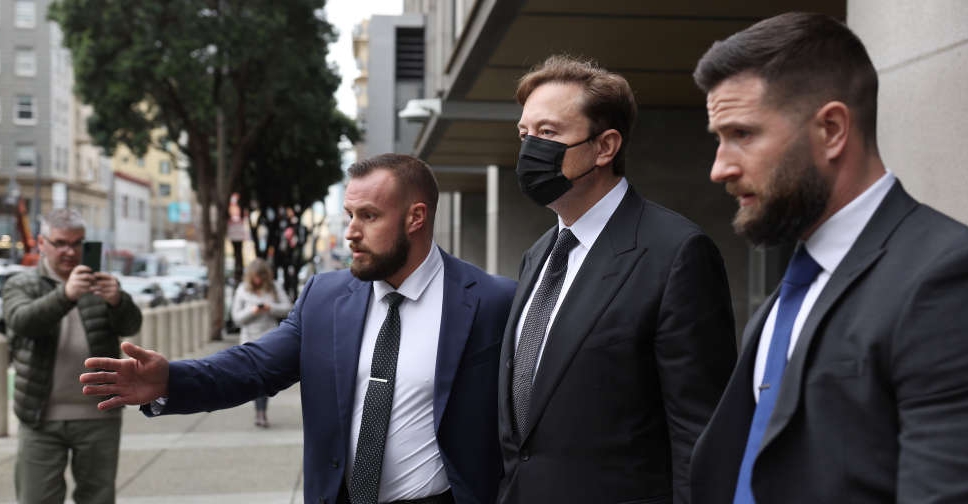 JUSTIN SULLIVANGETTY IMAGES NORTH AMERICAGetty Images via AFP
A U.S. jury has found Tesla Inc TSLA.O CEO Elon Musk and his company were not liable for misleading investors when Musk tweeted in 2018 that he had "funding secured" to take the electric car company private.
Plaintiffs had claimed billions in damages and the decision also had been seen as important for Musk himself, who often takes to Twitter to air his views.
On Friday, the jury came back with a unanimous verdict roughly two hours after beginning deliberations.
Musk was not present in court when the verdict was read but soon tweeted that he was "deeply appreciative" of the jury's decision. Shares of Tesla rose 1.6% in after-hours trading following the verdict.
Tesla shareholders claimed Musk misled them when he tweeted on Aug. 7, 2018, that he was considering taking the company private at $420 per share, a premium of about 23% to the prior day's close, and had "funding secured." They say Musk lied when he tweeted later that day that "investor support is confirmed."
The stock price soared after the tweets and then fell again after Aug. 17, 2018, as it became clear the buyout would not happen.
During closing arguments,Nicholas Porritt, a lawyer for the investors, said the billionaire CEO is not above the law, and should be held liable for the tweets.
Musk's lawyer Alex Spiro countered that Musk's "funding secured" tweet was "technically inaccurate" but that investors only cared that Musk was considering a buyout. "The whole case is built on bad word choice," he said. "Just because it's a bad tweet doesn't make it fraud," Spiro said during closing arguments.
An economist hired by the shareholders had calculated investor losses as high as $12 billion.
During the three-week trial, Musk spent nearly nine hours on the witness stand, telling jurors he believed the tweets were truthful. He said he had lined up the necessary financing, which later backpedaled on its commitment, Musk said.
Musk later testified that he believed he could have sold enough shares of his rocket company SpaceX to fund a buyout, and "felt funding was secured" with SpaceX stock alone.