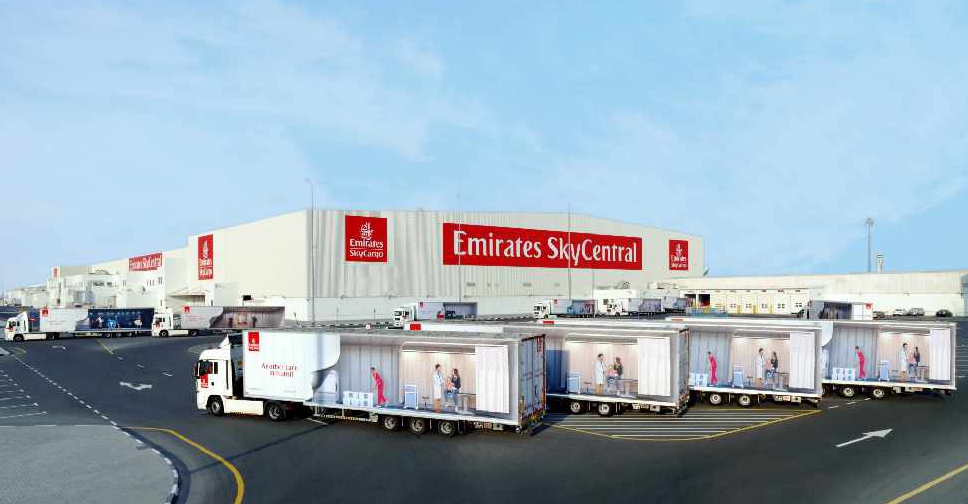 Supplied
The world's first dedicated airside cargo hub for the COVID-19 vaccine is coming up in Dubai.
Emirates SkyCargo is reopening its terminal in Dubai South to handle the logistical complexities of distributing a potential vaccine globally.
It will help fly in vaccines from manufacturing sites and store and prepare shipments for distribution.
The 4,000 sqm Emirates SkyCentral DWC cargo terminal will be able to hold around 10 million vials of vaccine at a 2-8 degrees Celsius temperature range at any one point of time.
The freight division of Emirates has also set up a rapid response team to coordinate requests from the various stakeholders involved in the international vaccine ecosystem.
"We have the infrastructure and logistics connections, and a geographic location that puts markets representing more than two-thirds of the world's population within an 8-hour flying radius," said H.H. Sheikh Ahmed bin Saeed Al Maktoum, Emirates Chairman and Chief Executive.
Dubai is well positioned to serve as a gateway and distribution hub for COVID-19 vaccines to the rest of the world. pic.twitter.com/KHDc3BVcW7

— HH Sheikh Ahmed bin Saeed Al Maktoum (@HHAhmedBinSaeed) October 22, 2020
The setting up of a dedicated airside hub for COVID-19 vaccines by Emirates SkyCargo is a keystone project harnessing our network, reach and competencies to positively impact the lives of people around the world.

— HH Sheikh Ahmed bin Saeed Al Maktoum (@HHAhmedBinSaeed) October 22, 2020