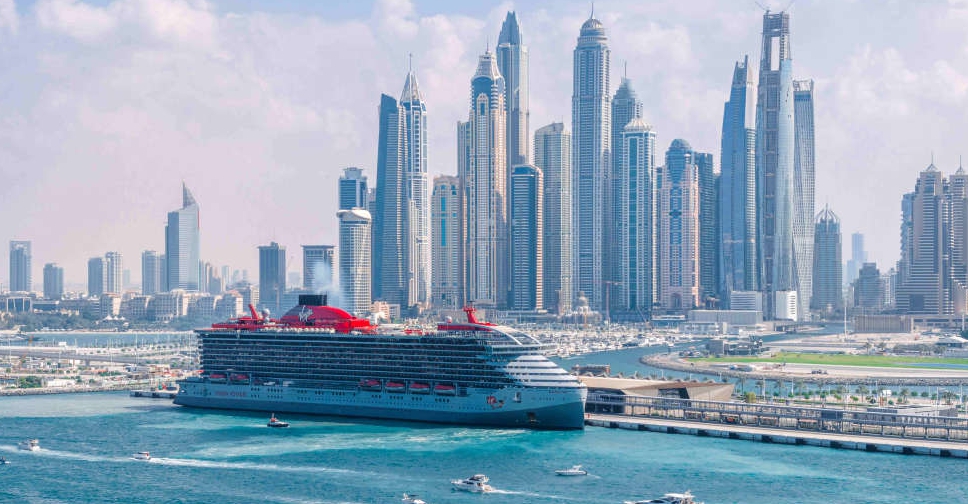 Inspired by super yacht design and bringing modern glamour to the seas, the latest ship from Richard Branson's cruise travel brand arrived in style at Dubai Harbour.
The iconic Resilient Lady, operated by Virgin Voyages, is one of a number of international cruise liners to arrive at Dubai Harbour during this year's cruise season, with 300,000 passengers and 49 ship calls.
Resilient Lady, along with its sister ships, was designed by world-renowned architects and designers including Tom Dixon and Concrete Amsterdam, with menus curated by Michelin-starred chefs. There's also a daily line-up of immersive entertainment and live music performances, paired with stunning spaces to recharge and relax.
"As Resilient Lady embarks on her journey from Greece to Australia, we wanted to offer our sailors the opportunity of a lifetime to explore one of the world's most captivating cities via Dubai Harbour," said Michelle Bentubo, Chief Operating Officer of Virgin Voyages.
"We are grateful for the Arabian hospitality and warm welcome into this extraordinary seafront district. The modern, highly efficient terminal network helped us ensure smooth Sailor turnaround, which is imperative given our shorter stay in the city, and we look forward to calling on Dubai in years to come."
Abdulla Binhabtoor, Chief Portfolio Management Officer of Shamal Holding and the owner and curator of Dubai Harbour, expressed delight at having "Virgin Voyages' Resilient Lady stopover at our seafront destination".
Resilient Lady is the newest "Lady Ship" to join the Virgin Voyages fleet that previously included Scarlet Lady and Valiant Lady. Celebrating Virgin's longstanding British heritage, Resilient Lady launched on May 14 from her summer homeport in Athens, Greece.
This past summer, the award-winning brand offered two, seven-night itineraries around the Greek Isles and Adriatic Sea departing out of Athens. These included "Adriatic Sea and Greek Gems" and "Greek Island Glow".