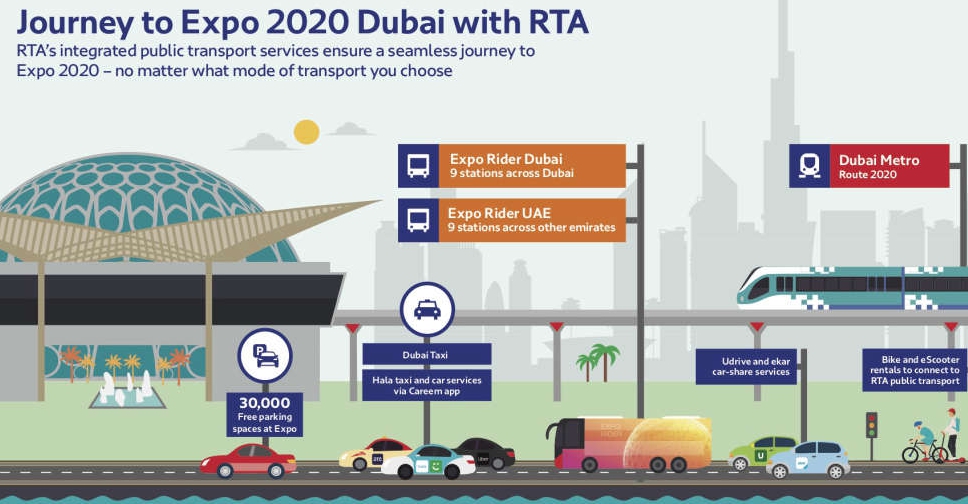 DUBAI MEDIA OFFICE
Dubai's Roads and Transport Authority (RTA) has finished 15 projects to serve Expo 2020, costing more than AED 15 billion.
Mattar Mohammed Al Tayer, Director-General, Chairman of the Board of Executive Directors of the RTA confirmed the preparedness of the infrastructure of roads and mass transit networks service to visitors of Expo 2020 from Dubai and other emirates across the UAE.
Projects include Route 2020 of Dubai Metro, which runs 15 km and connects seven stations, procuring 50 trains. Constructing roads spanning 138 lane-kilometres with 9 fly-overs, deploying 200 public buses, designating 18 stations/stops for buses at hotspots in Dubai and other key cities of the UAE. Deploying 15,000 taxis, limousines, managing 30,000 parking slots at the Expo site, and using smart technologies, apps, and artificial intelligence to ease the movement of Expo visitors aboard the metro, buses and taxis.
RTA's preparations for this mega global showpiece included the construction of the Enterprise Command and Control Centre, one of the biggest and most sophisticated control centres in the world. It also constructed the Intelligent Traffic Centre that uses cutting-edge smart technologies in managing traffic movement.
Service Hours
Dubai Metro Expo 2020 Station will operate on October 1st, synchronised with the official opening of Expo 2020. The Red and Green Lines of Dubai Metro will offer passenger services from Saturday to Wednesday from 05:00 am to 01:15 am (of the following day). On Thursday, the service will run from 05:00 am to 02:15 am (of the following day), and on Friday from 08:00 am to 01:15 am (of the following day). The service frequency will be 2:38 minutes during peak times. Dubai Tram will provide service from Saturday to Thursday from 06:00 am to 01:00 am (of the following day), and on Friday from 08:00 am to 01:00 am (of the following day).
Expo Buses will operate from 06:30 am and continue service for 90 minutes after the closure of Expo Gates. Passenger commuting service from the parking area (Expo Parking Shuttle) to the three Expo Gates will start at 09:00 am and continue for 90 minutes after the closure of Expo Gates. Bus Service between Expo Gates (Expo People Mover) will start service at 06:30 am and continue service 90 minutes after the closure of Expo Gates. Taxi and e-hail services will be running around the clock.
RTA will manage about 30,000 parking slots at the site of Expo distributed at several zones (Opportunity, Mobility, Sustainability, World, and Nissan Parking).
It will use intelligent traffic signs and manage the parking by a smart system connected to the traffic monitoring centre to identify vacant slots. RTA has developed alternative plans to cope with the events in case the parking lots are full by using the intelligent traffic signs on external and internal roads to direct motorists to alternative parking.
Route 2020
Route 2020 of the Dubai Metro extends 15 km from Jebel Ali Metro Station on the Red Line to Expo 2020 Station. It connects seven stations and provides safe and smooth transport for visitors of the Expo as well as Dubai districts.
Route 2020 serves communities populated by more than 270 thousand people namely the Gardens, Discovery Gardens, Al Furjan, Jumeirah Golf Estates, Dubai Investment Park and Dubai Expo 2020 site.
It has a capacity of 46,000 riders per hour in both directions (23,000 riders per hour per direction). The number of riders is expected to reach 275,000 riders per day in 2030. Expo Station is expected to receive 35,000 daily visitors of Expo during weekdays, and the number is set to increase to 47,000 daily visitors during weekends. This number accounts for 29% of the total expected number of daily visitors to Expo.
Stations and Buses
To facilitate the movement of Expo visitors from different emirates, RTA allocated 203 buses: (Expo Bus) to serve visitors to Expo 2020 from 18 stations (9 stations in Dubai, and 9 stations in other emirates). Expo bus service will be free of charge in Dubai from nine stations and stops, in addition to two routes to transport visitors from hotels directly to the site of Expo.
RTA designated 126 public buses to serve Expo 2020 visitors from 9 stations/stops across Dubai, namely Palm Jumeirah, Al Baraha, Al Ghubaiba, Etisalat, Global Village, International City, Dubai Silicon Oasis, Dubai Mall and Dubai International Airport (Terminal 3) through operating 455 to 476 trips per day.
RTA will also provide two additional services: the EXPO Parking Shuttle service to transfer visitors from car parks to the three Expo Gates: (Opportunity, Mobility, and Sustainability) and the EXPO People Mover service to commute visitors between Expo Gates.
RTA will operate 77 buses to transport Expo visitors from nine locations outside Dubai, including three stations in Abu Dhabi city namely Abu Dhabi International Airport Station, Abu Dhabi Main Bus Station, Marina Mall Station, in addition to one point in Al Ain City at Al Ain Bus Station. There will be two stations in Sharjah: Al Jubail Bus Station, Muwailih Station. Other stations include Ras Al Khaimah Bus Station, Ajman Bus Station, and the bus stop near City Centre Fujairah. There will be 193 trips per day during weekdays, rising to 213 daily trips during the weekend (on Thursdays and Fridays).
Nine Stations
RTA established nine public bus stations to serve Expo visitors, distributed over key areas in Dubai, namely: Al Ghubaiba, Etisalat, Al Baraha, Dubai Silicon Oasis, International City, Dubai International Airport (Terminal 3), Palm Jumeirah, Dubai Mall, and the Global Village.
Taxis and Limos
RTA is deploying 15,000 taxis and limousines to serve the emirate and visitors to Expo 2020. They include 9,710 taxis and 5,681 limousines, which can be booked through the e-hail services of Uber and Careem. RTA added 10 vehicles to serve people of determination at the Expo 2020 site.
Smart and Innovative Services
RTA developed a package of smart and innovative projects and initiatives to serve visitors of Expo 2020 that included the provision of 8 innovative services.
Also, there is an initiative for paying the taxi fare through the e-wallet using the Alipay App, and the QR code service, without using credit card payment devices. The service targets tourists and visitors from abroad.
. @rta_dubai : Infrastructure and road projects of @expo2020dubai cost AED15 billion #Dubai https://t.co/UQDdWr8WWT pic.twitter.com/pf07T7n2a4

— Dubai Media Office (@DXBMediaOffice) September 25, 2021