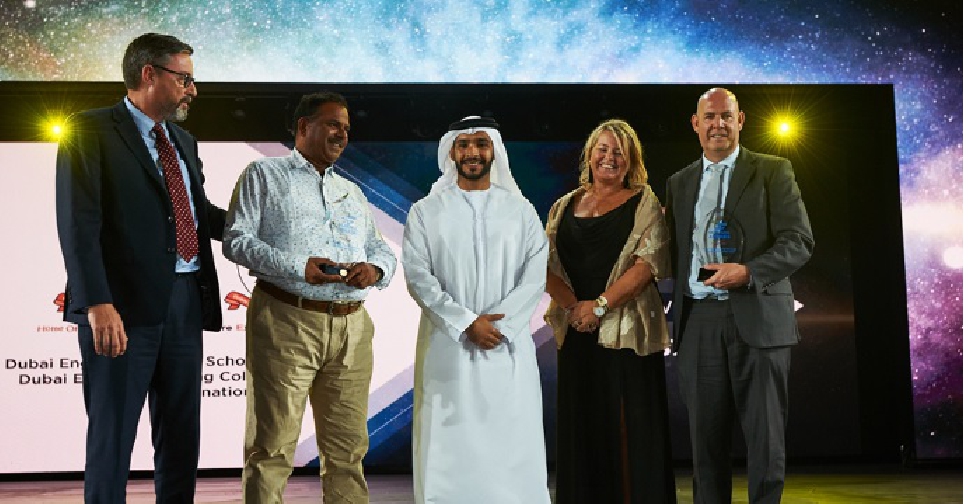 schoolscompared.com
Dubai English Speaking College and Dubai English Speaking School have been recognised as the best schools in the UAE.
The institutions walked away with the top honour at the SchoolsCompared.com Top Schools awards for 2019.
Twenty-one awards were handed out in celebration of excellence in the UAE education sector.
The award for the best Indian curriculum school went to GEMS Modern Academy while British School Al Khubairat was awarded for being the best British curriculum school of the year.
Raha International won the top honour its IB programme, while the winner of Best American curriculum was the American School of Dubai.
HERE ARE THE COMPLETE LIST OF WINNERS:
Outstanding contribution to education in the UAE: Dr Abdulla Al Karam
British curriculum school of the year
Winner: British School Al Khubairat
Finalists
• Dubai English Speaking College (DESC)
• Cranleigh Abu Dhabi
• Dubai British School Emirate Hills
• Dubai English Speaking School (DESS)
• Jumeirah College
International Baccalaureate school of the year
Winner: Raha International
Finalists
• Dubai International Academy - Emirates Hills
• GEMS World Academy Dubai
• Greenfield Community School
• Jumeira Baccalaureate School
• Uptown School
Best American curriculum school of the year
Winner: American School of Dubai
Finalists:
• Clarion School Dubai
• West Yas Academy Abu Dhabi
Indian curriculum school of the year
Winner: GEMS Modern Academy
Finalists:
• Ambassador School and Kindergarten, Dubai
• Delhi Private School
• The Indian High School (Senior Campus)
• The Millennium School
Arabic Blended curriculum school of the year
Winner: Sheikh Zayed Private Academy for Boys
Finalists:
• American School of Creative Science, Dubai
• Next Generation School, Dubai
• School of Research Science
• Sheikh Zayed Private Academy for Girls
IB Blended curriculum School of the Year
Winner: Jumeirah English Speaking School Arabian Ranches
Finalists:
• American Community School of Abu Dhabi
• Deira International School Dubai Festival City
• GEMS Dubai American Academy
• Nord Anglia International School
• Repton School Dubai
Best Primary School
Winner: Dubai English Speaking School
Finalists:
• GEMS Jumeirah Primary School
• Horizon English School
• Jumeirah English Speaking School - Jumeirah
• Kings' School Dubai
• Victory Heights Primary School
Best Nursery
Winner: Aga Khan Early Learning Centre
Finalists:
• Children's Oasis
• IDEA Early Learning Centre
• Little Land Nursery
• Yellow Brick Road Nursery
Best post-16 education
Winner: British School Al Khubairat
Finalists:
• Dubai College
• Dubai English Speaking College (DESC)
• Jumeirah College
• Jumeirah English Speaking School (JESS) Arabian Ranches
• Repton Dubai
• Sunmarke School
Best school for technical education
Winner: Dubai English Speaking College
Finalists:
• British School Al Khabairat (BSAK)
• GEMS Wellington Academy - Dubai Silicon Oasis
• Greenfield Community School
• Sunmarke School Dubai
Best new school
Winner: Safa Community School
Finalists:
• Cranleigh Abu Dhabi
• Dubai Heights Academy
• Kent College
• Nord Anglia International School Dubai
• Ranches Primary School
Best school for music
Winner: Nord Anglia International School Dubai
Finalists:
• American School of Dubai
• Brighton College Abu Dhabi
• Cranleigh Abu Dhabi
• GEMS Music Hub at GEMS World Academy
Best school for theatre and the performing arts
Winner: Cranleigh School Abu Dhabi
Finalists:
• American School of Dubai
• American Community School, Abu Dhabi
• Dubai English Speaking College (DESC)
• Nord Anglia International School Dubai
• Raha International School Abu Dhabi
Best school for art
Winner: Brighton College Abu Dhabi
Finalists:
• British School Al Khabairat
• Nord Anglia International School
• Jumeira Baccalaureate School
• Jumeirah College
• Raha International School
• Springdales Dubai
Best school for sport
Winner: Dubai English Speaking College
Finalists:
• Dubai College
• British School Al Khubairat
• Jumeirah College (JC)
• Jumeirah English Speaking School (JESS) – Arabian Ranches
Best school for child progress and value add
Winner: Jumeirah College
Finalists:
• British School Al Khubairat (BSAK)
• Dubai English Speaking College (DESC)
• Jumeirah English Speaking School (JESS) - Arabian Ranches
• Repton School Dubai
• The English College
Award for outstanding use of technology
JOINT Winners: Fairgreen School and Jumeirah English Speaking School – Arabian Ranches
Finalists:
• GEMS Dubai American Academy
• Hartland
• Repton School - Abu Dhabi
Best international initiative
Winner: Riverston School Dubai
Finalists:
• Dubai English Speaking School (DESC) and Dubai English Speaking School (DESS)
• Dubai International Academy - Emirates Hills
• Fairgreen International School
• Nibras
School principal of the year, 2019
Winner: Sasha Crabb, Victory Heights
Finalists:
• Catherine Dando Dubai English Speaking School (DESS)
• Simon O' Connor Jumeirah College
• Rachel Higgins GEMS Jumeirah Primary School
• Mark Leppard MBE British School Al Khubairat (BSAK)
Best school in the UAE, 2019
Winner: DESC and DESS
Finalists:
• American School of Dubai
• Brighton College Abu Dhabi
• British School Al Khubairat (BSAK)
• Cranleigh School Abu Dhabi
• GEMS Modern Academy
• Jumeirah Primary School (JPS) and Jumeirah College (JC) [Joint nomination]
• Jumeirah English Speaking School (JESS) Primary & Arabian Ranches [Joint nomination]
• Raha International School
• Sheikh Zayed Private Academy for Boys