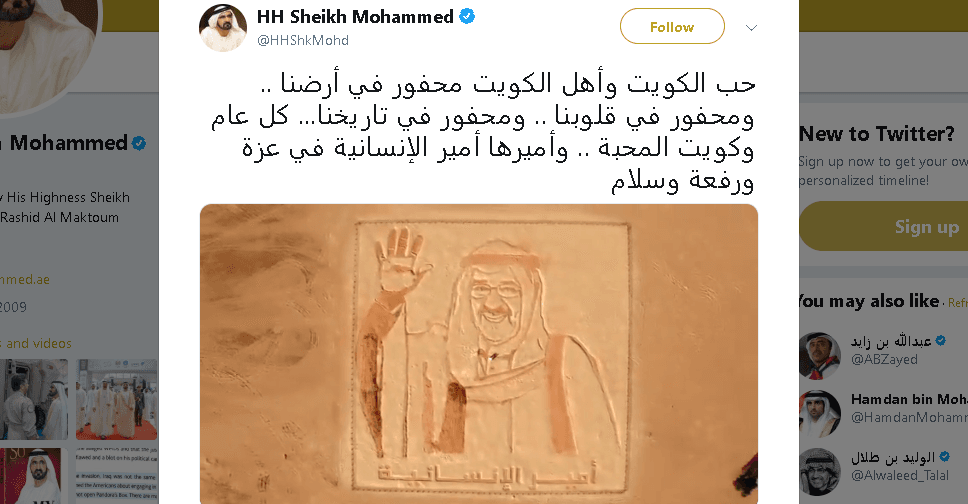 Twitter
A picture etched in sand in the desert has been put forward for yet another Guinness World Record for the UAE.
His Highness Sheikh Mohammed bin Rashid Al Maktoum, Vice President and Prime Minister of the UAE and Ruler of Dubai, has tweeted a video of Emirati men coming together to carve out a picture in red sand, in the middle of Al Qudra desert.
It's the world's largest portrait of Sheikh Sabah Al Ahmad Al Jaber Al Sabah, Amir of Kuwait, to honour the country's national day.
The tweet reads, "The love of Kuwait and the people of Kuwait is etched into our land... in our hearts... in our history... May beloved Kuwait and its amir, prince of humanity, continue to see years of prosperity and peace."
Measuring 170,000 square feet it took nearly 2,400 hours to complete, with the words "prince of humanity" etched beneath it.
The image can be seen from space, after the UAE's recently launched KhalifatSat took a picture of it.
Kuwait celebrates its national day on Monday, February 25th.
حب الكويت وأهل الكويت محفور في أرضنا .. ومحفور في قلوبنا .. ومحفور في تاريخنا... كل عام وكويت المحبة .. وأميرها أمير الإنسانية في عزة ورفعة وسلام pic.twitter.com/BeFLvjx6sI

— HH Sheikh Mohammed (@HHShkMohd) February 21, 2019